Much awaited Call of Duty hits shops
Thousands of gamers across the UK queued into the night to get their hands on some of the first copies of Call of Duty: Modern Warfare 2.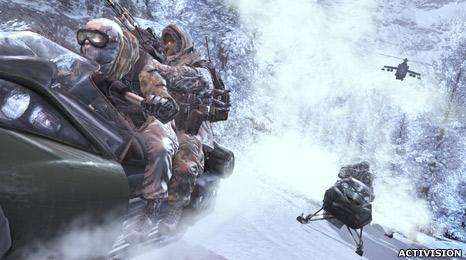 It's being described by some industry experts as the most hotly anticipated game ever and is already breaking records.
One online retailer says pre-sale orders are up 50% on Grand Theft Auto 4 which, up until now, had the most successful launch ever.
Give us your verdict: Have you been playing the new Call of Duty?
More than 300 shops opened at midnight to start selling it to fans.
Rob, who is 25, was one of the first in the queue at one store in central London.
'Better storyline'
He said: "I'm probably going to go home, rip it open and have a good few hours it, finding out what happened with the gang from the last one.
Ever since I saw the first teaser trailer, I just wanted to continue the story from where the last game left off
"They (the developers) have led up the hype, made the storyline even better, increased the expectations, what's to be seen, what's to be done and the experience as well."
His 22-year-old friend Nick had been with him for several hours waiting for their turn at the tills.
"I've been waiting now for I don't know how many months," he said.
"Ever since I saw the first teaser trailer, I just wanted to continue the story from where the last game left off."
Multi player function
He explained why he was so desperate to start playing the game.
"Just for the multi player really. I've wasted so much time on that before and I just can't wait to get back on it," he said.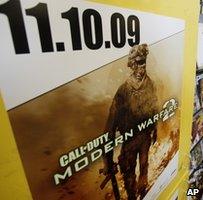 Actor Kevin McKidd, probably best known for his roles in Grey's Anatomy and the film Trainspotting, plays the role of Captain Soap MacTavish in the game.
"I got this phone call and was asked if I wanted to do a voice-over for a video game.
"I decided it'd be fun, there'd be my Scottish voice. Then suddenly I found out it's the biggest selling game, potentially, of all time, which is exciting and pretty cool."
He reckons the hype surrounding the game is a sign of how the entertainment industry is starting to take more and more notice of video games.
"I think this is a real sign of where entertainment is going," he said.
"It's a sign that the outlet is not as simple as TV and film and is all starting to blend. We should all see it as quite an exciting time I think."
Chance Glasco worked as an animator on the game.
He said: "We have about 80 to 85 people working on it for two years.
"We sit behind computers, we work on a game, put everything into it that we can and then to see all the anticipation from the fans is like nothing I ever expected."