Introducing…Darwin Deez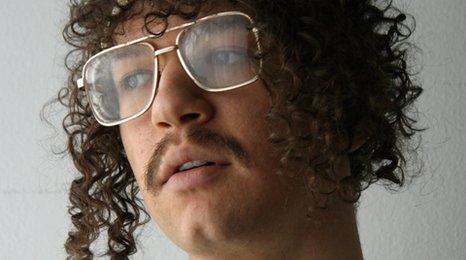 Few artists talk about their spiritual beliefs, even fewer let them rule their life as openly as New York's Darwin Deez.
Deez, as well as fronting his own band, is a Baba Lover: a follower of the teachings of 20th century Indian spiritualist Meher Baba.
The preacher, who adopted silence from the age of 31 until he died at 74 in 1969, advocated the mantra 'Don't worry be happy' (later picked up by Bobby McFerrin for his 1988 hit) and denigrated the use of drugs.
"It can be a challenge for real, but I think it's a worthwhile challenge," says Deez, pondering his life choices. "It helps people to exude cheerfulness. Baba always said cheerfulness has spiritual value."
Waiter by day
Indeed, Deez, who waits tables at a vegan restaurant by day and plays gigs with his band by night, is exceptionally cheerful.
But he also finds the archetypal life of a rock 'n' roller at odds with his own clean-living beliefs.
"It's going to feel a little strange just going from one oasis of liquor to another night after night," he explains, on the subject of an upcoming US tour.
"If you want to be a musician, if you want to be a songwriter, at some point you've got to service the drunkies (sic)."
If all this makes Deez sound like a boring hippy with an allergy to fun, he's anything but.
He writes positive songs reminiscent of NYC buddies The Strokes, whilst his live gigs are explosions of joy - often involving syncopated dance interludes - like a low-budget Flaming Lips production.
"The first song I ever wrote was called Missing and it was probably when I was 11 after I got my guitar. My parents got me a guitar for my birthday," he laughs. "In fact I still play it - it was a little catchy two-cord song."
Debut single
Speaking of catchy songs, Constellations is Deez's debut single out in December - a rickety indie anthem which references Twinkle Twinkle, Little Star.
"There was a period where I would go to the open mic night every week at the sidewalk café (New York)," he elaborates.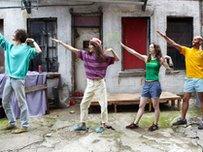 "Some cool people used to do that like Regina Spektor, Adam Green (Moldy Peaches) and this guy Latch - I started hearing things I liked. I stole the idea to reference a children's song. That is how the lyrics of Constellations got started.
Now, he's on his second album Astrological Epochs And The Sands Of Time ("my first album, I never released it or performed it"). It is set for release sometime in 2010.
"I feel like the music that I've made on this record has far reaching appeal," he says.
"The next record will be a little more introspective, emotional, Radiohead-whatever."
But for the moment, in between pursuing his deep interest in philosophy, he's grabbing every opportunity that comes knocking.
"I want my songs to be famous whether I'm the one singing them or not," he states, before embarking another in-depth tangent about Animal Collective's work ethic.
"The physical world is ultimately illusion," he says colourfully. "It keeps changing."
So begins this Darwin's evolution.