Sugababes' Amelle back at work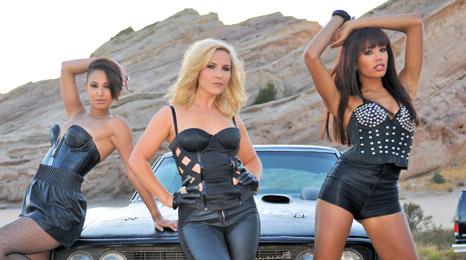 The Sugababes say that Amelle Berrabah will be back at work with them on Friday, after spending time at a clinic in Austria suffering from nervous exhaustion.
Doctors who diagnosed the singer had recommended rest, but after three weeks bandmates Heidi Range and Jade Ewen say she is now back in the UK and feels ready for work.
"She feels much better now and is positive and looking forward to getting back into things," said Heidi.
"It's a new challenge, a new start for us and we know we've got to prove ourselves to people but I think it's something that we're excited about now."
Amelle's break followed Keisha Buchanan's much publicised exit from the group and Jade Ewen joining as a replacement.
There were negative things on there and there are some pretty horrendous people out there. Things like, 'Burn in hell', 'Why don't you get an eating disorder?
Heidi Range on the comments that put her off using Twitter
"You know she'd been under a lot of pressure and it just took its toll on Amelle," said Heidi.
"I've really missed her and Jade hasn't really had a chance to get to know her properly yet. I think we're over the worst of it now."
Heidi admitted she's also had her fair share of pressure and explained why she's recently abandoned her Twitter page.
"I stopped putting messages on it because I wasn't in a happy, light-hearted mood to be saying, 'I'm off to a spin class' or whatever," she said.
"There were negative things on there and there are some pretty horrendous people out there.
"Things like, 'Burn in hell', 'Why don't you get an eating disorder? You look fat next to Jade and Amelle'. Pretty nasty things."
'No name change'
Heidi says she will probably be back on the social networking site soon though.
"I just thought I am a good person," she added. "People that don't even know me, don't know the situation, to let that ruin your day is silly. I just wanted to deal with what was going on in our lives."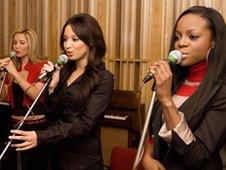 Since Keisha Buchanan left, there has been lots of discussion about whether the band can continue to call themselves Sugababes, with no original members remaining.
Heidi says she never once thought of changing their name.
"I don't want to sound like I'm being bigheaded but the Sugababes had one album which didn't sell and they were dropped," she said.
"I joined eight years ago and we were signed together by Island records. I've been there since our first number one Freak Like Me and been part of the history of the band ever since."
Heidi also defended Amelle's position in the group.
"Amelle has been in the group for over four years and she's been part of our biggest album as a group. I think it's unfair," Heidi continued.
"That's not disrespecting what previous members have brought to the group, but we were signed as Sugababes to Island Records and I'm still signed to Island records as Sugababes."
'Paranoid'
As for new member Jade Ewen, the former Eurovision contestant has had her fair share of criticism too.
"It's just amazing how powerful the media are," she said. "One of my biggest problems when I was trying to do the solo thing was that I had this squeaky clean image.
"Then overnight joining Sugababes I became this horrible diva who's come in and taken Keisha's place. I just found that really odd. You become quite paranoid."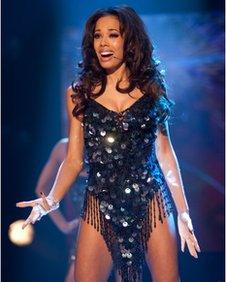 Jade says lots of what's been written in the papers isn't true but admits she does feel some awkwardness over Keisha.
"I'm going in and replacing someone's position. We're literally deleting, erasing Keisha's vocals and replacing them with mine," she said.
"Of course I'm happy to be there but it's a difficult thing to do as a singer. I can't imagine how that would feel if the shoe was on the other foot."
Jade also thinks this next Sugababes album, which has been put on hold until February, is their best yet.
"I'm proud of it and I hope people see that I've only taken an opportunity that was my dream and that doesn't make me a bad person," she said.
"I think anyone would do the same in my position."
As for those rumours that Keisha is reforming the original Sugababes line up, rumours Keisha has denied, Heidi and Jade aren't worried.
"I think the media are enjoying this rumour," said Heidi. "Whether it's true or not, I think they're building up more than it is.
"If that's what they want to do, that's fine. We're just going to concentrate on what we're doing.
"You know a lot's happened over the last few months," she added. "It's not been the best of times, it's been quite tough.
"We've got through the other side now and it's onwards and upwards."