MTV madness takes over Berlin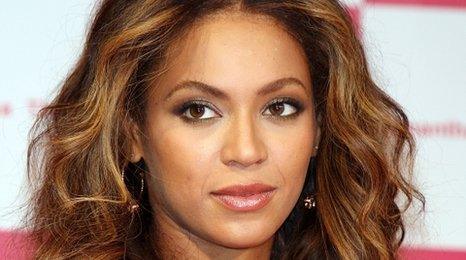 Katy Perry's contemplating her costume changes, U2 will perform at the Brandenburg Gate and David Hasselhoff has just been announced as a surprise guest presenter.
It can only mean the MTV Europe Music Awards have hit Berlin.
Beyonce, Jay-Z, Green Day, Foo Fighters, Shakira and Leona Lewis will all be performing at the city's O2 World this evening (5 November).
Beyonce was a late announcement after Robbie Williams pulled out due to a "scheduling conflict."
Returning to host for the second year running is singer Katy Perry. She began last year's event in Liverpool by sitting on top of a giant cherry chapstick but admits her "fruity, kitsch thing may be a little played out".
So instead she says she's taking in the "Berlin/Cabaret vibe". That means Katy gets to have her own black and white themed Katy Kat Club set up on the arena floor.
A tattoo artist will be backstage airbrushing temporary stockings and garters onto Katy's dancers and she'll be draped in "lace and feathers and crystals and corsets".
"I think it's going to be dark and sexy and romantic," Katy said. "A little bit naughty here and there."
A lot of being backstage is really boring. You do see some boobs though...that does truly happen
Pete Wentz, backstage host, MTV Europe Awards in Berlin
The singer admits she'll be showing more flesh and wearing fewer clothes. Inspired by her boyfriend Russell Brand perhaps?
"Yes, he's a massive influence on my fewer clothes," Katy laughed, but concedes "I think he'd probably prefer me being more quirky and covered (up)".
After playing a gig in London, Jay-Z flew out to Berlin late on Wednesday night with wife Beyonce. Up until now a stand-in has been doing Beyonce's song, but the real singer will rehearse on Thursday morning.
'Steamy' performances
Foo Fighters spent Wednesday afternoon running through the two tracks they'll perform during the show, new single Wheels and old favourite All My Life.
Mid-rehearsal frontman Dave Grohl started singing Foreigner's 80s classic, I Want to Know What Love Is, joking to bandmate Taylor Hawkins he wished they could sing that instead.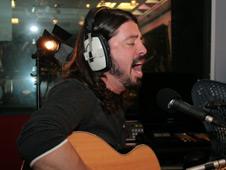 Executive producer of the MTV show, Richard Godfrey, says to expect "steamy" performances from both Beyonce and Shakira.
He also feels this year's artists have been "better behaved" with fewer backstage demands.
Richard promised: "It's never the artists, but sometimes some of their people are a little challenging."
They haven't had any requests for the unusual. Nothing to top a past show which saw Borat (played by actor Sacha Baron Cohen) having goats in his dressing room.
Still, Richard Godfrey says his favourite was P Diddy at the 2002 awards held in Barcelona.
"He had a bath of milk and special linen sheets, and he's since apologised to us but that was a tricky one," he admitted.
Joss Stone is MTV's online host on the red carpet, but won't be asking anybody what they're wearing.
"Because it's ridiculous really, isn't it?" she told reporters.
Ironically the press conference host then asked Joss what she planned to wear. In case you are interested, Joss doesn't know yet but says she's "got a couple of options" and "will wear something".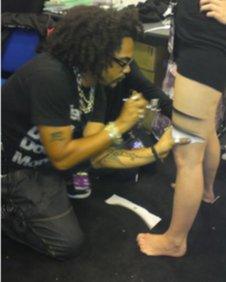 Fall Out Boy's Pete Wentz has the job of presenting the online backstage show for MTV.
Pete's preparation for the task ahead included drinking four Bloody Marys on the flight to Berlin.
Earlier this year he was the main on-stage host for the Australian MTV Awards.
"Clearly I got downgraded a little bit," Pete joked. "I got off the TV and onto the internet."
On a more serious note he says he's excited to be back in Berlin as the city prepares for next week's 20th anniversary of the fall of the wall and hopes some of the acts will want to chat about that.
Oh, and meanwhile he reckons a lot of being backstage is really boring.
"You do see some boobs though with the (costume) changes. That does truly happen."
Katy Perry hosts the 18th MTV Europe Awards on Thursday 5 November at 9pm.