Metronomy record 'missing' year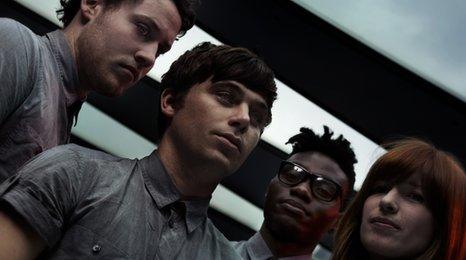 Metronomy's Joseph Mount hasn't slept in his own bed much recently.
Indeed, since their critically lauded second album Nights Out was released in September 2008 his feet have barely touched the ground.
Finally after 18 months of racking up air miles courtesy of trips to South America, Japan and Australia (where they climbed Sydney Harbour Bridge with The Rapture amongst playing festivals) Metronomy's mastermind has returned home.
Conceptually, the songs on Nights Out plotted the ups and downs of a night out on the town. Similarly this one will have one unifying theme.
'Missing year'
"It's quite a sprawling concept," says Mount of the new material he's writing.
"Friends of mine have had children, people have got married and engaged. Loads of stuff has gone on that I've missed.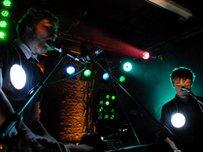 "The idea of it is that it's going to be a record about a year that never was, what could have gone on since last September, whilst I've been out of the country."
With 2006's Pip Paine (Pay The £5,000 You Owe) and Nights Out both recorded in his bedroom, for the first time he's venturing into a "proper" studio.
"It's still a big step," he says. Once again he'll write the whole thing himself, with the assistance of ex-bass player Gabriel Stebbing and sax player Oscar Cash.
"I decided when the first record came out I was going to do three (albums) that I'd write alone. You get protective about it, you hope these things are going to live longer than you do.
"My big plan for this record is that I want really extensive liner notes," he ponders.
"A ridiculous amount of useless information, like who played on it, what time it was recorded, what you ate."
Speedy work
With two songs already written, Mount, alongside his band Cash, Anna Prior (drums) and Gbenga Adelekan (bass) are seeking to work quickly and have new music released in early spring.
"I really don't want to sit around or sit on a record for too long," Mount admits.
"We've got some momentum. If you like a band and it takes ages to do stuff it gets frustrating."
I really don't want to sit around or sit on a record for too long. We've got some momentum. If you like a band and it takes ages to do stuff it gets frustrating
For the moment though Metronomy fans will have to nourish themselves with the release of EP Not Made For Love in September. Two new songs appeared, but that wasn't always the intention.
"The original plan was to release a deluxe edition of the record. I think then the label couldn't be bothered because we didn't get put forward for a Mercury (Music Prize)," he says.
"The new stuff that I wrote there was in between touring so it's a lot more downbeat. It reflects the way I felt.
"People have been confused as to whether this was a new sober direction, but I was just tired. It's a full stop rather than a capital letter.
"Maybe the next record will be a bit more palatable for certain people."
Yet, Mount can't hide his disappointment that Nights Out didn't make this year's Mercury Prize shortlist.
"I'd be lying if I said I wasn't disappointed but I think every single person who put forward their record was disappointed.
"You can start to feel slightly jealous of artists who get decent exposure anyway like Kasabian, like La Roux and Florence [and the Machine] - you think I would like a piece of it."