Little Britain duo write new show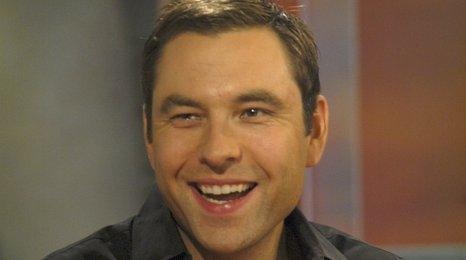 David Walliams says he and Little Britain writing partner Matt Lucas are penning a new show together.
The comic actor, who was recently nominated for a prize for his first children's book, says it's halfway between a sitcom and a sketch show.
He said: "We're really, really excited and just sort of starting work on that now, so hopefully that will be on towards the end of next year.
"We're really confident about it and really pleased with how it's going. But it's very early days."
I like John and Edward. Between the two of them they still haven't got enough talent for one person, but they're entertaining
David Walliams on X Factor duo John and Edward
The comedy duo survived the critics' negative comments towards Little Britain USA too, with US company HBO co-producing the new show with the BBC.
David added: "They really loved Little Britain USA and wanted us to do more but we felt we wanted to do something fresh. Especially for our audience in Britain."
David has recently been supporting Matt Lucas after his former husband Kevin McGee died.
"We try and make each other laugh," he said of their writing process. "It's all trial and error with comedy. You have to know that you're probably going to fail some of the time."
Young fans
David admits it was Little Britain's younger fans who inspired him to become a children's author and do something especially for them.
His second book, Mr Stink is about a shy, slightly chubby little girl called Chloe who hides a tramp in her garden shed.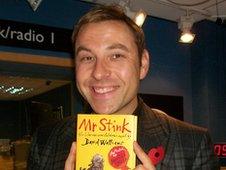 "Little bits and pieces are inspired by things in my own life," he said. "But I never lived life as a little girl or indeed hid a tramp in the garden, so it must have come from my imagination.
"I was very insecure, I was quite fat as a child. I was probably about three or four times the size I am now," he laughed.
"I used to comfort eat a lot, I wasn't that happy. I was working out who I was, but I guess that's what kids do.
"With Chloe she's a bit disconnected from her family but Mr Stink comes into their lives and heals all the rifts in their family which is rather nice."
Jedward fan
David is currently sporting blonde hair and dyed eyebrows for a film he's making in LA with Steve Carrell and Paul Rudd called Dinner For Schmucks.
"I play a Swiss billionaire called Muller," he explained. "They said, 'Don't worry we'll dye it back when you get back to England.'
"What they meant is in January, when I go back to England for good. People are going to tease me for looking like George Michael in Careless Whisper."
David also confessed his recent X Factor addiction, and outed himself as a Jedward supporter.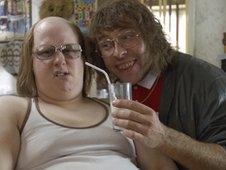 "I like John and Edward, they're entertaining," he explained. "Between the two of them they still haven't got enough talent for one person, but watching the show I was thinking, 'Who do I want to see most of all?' John and Edward, because I know it will be entertaining."
He says he doesn't get the Danyl haters either.
"I don't see what he's done wrong. I think he's probably peaked too soon and that just meant he didn't have the same kind of journey," he said. "He's hugely talented though."
Not that David admits to watching many of the actual performances.
"I have to fast forward the actual singing," he admitted. "It's just the judges' comments I want to watch. They start singing, that's the boring bit. The judges - they're the real stars of it."