Barlow promises 'one-off' duets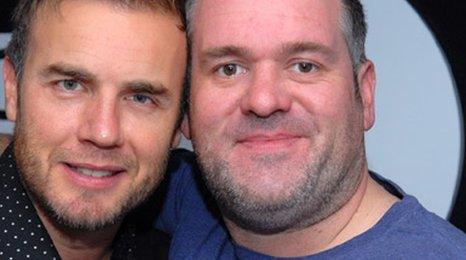 Take That frontman Gary Barlow says there will be some unique "one-off" duets at the Children In Need concert he's organising.
The singer is putting together a charity show at the Royal Albert Hall in London in November featuring some of the biggest names in UK music, including Muse, Sir Paul McCartney and Take That themselves.
Speaking to Chris Moyles, who will host the gig, Barlow said each act would be doing two songs but there would be also be "three or four one-off duets that have never been seen before."
When asked about the possibility of Dizzee Rascal partnering with Dame Shirley Bassey he teasingly replied: "I'm saying nothing, but make sure you're there."
Other names on the bill include Snow Patrol, Leona Lewis, Lily Allen, Cheryl Cole, Mika and Katherine Jenkins.
Barlow, who's now back at work following the unexpected death of his father two weeks ago, said he was surprised to get such a strong line-up for the concert.
"I wrote a list and sat there thinking, 'Right, if we can get half of this we'll be lucky', and every single person has agreed to do it.
"It's great. That's testament to the charity itself, people do love Children In Need. It is going to be a brilliant night and a bit of a one-off I think."
The Royal Philharmonic Orchestra will also add to the occasion by accompanying all the acts, in what Barlow described as a showcase of the best in UK music.
Elephant ride
The 38-year-old said after their record-breaking Circus tour, Take That were "not really doing much at the moment", but that their studio return wouldn't be far off.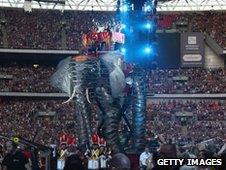 "We're starting our new record soon and we want a bit of a break now before any new music... It takes a good nine to 12 months to make an album."
The band's summer tour had exceeded their expectations, Barlow said. But he admitted he didn't appreciate the scale of the show - with its accompanying circus performers - until watching the band's upcoming live DVD.
"I was like, 'What's that going on behind us? I never knew that.' It's amazing! This other show just energises and you think 'Wow!'
"The best bit for us four was when that elephant goes up and you're like 20 metres above the whole stadium. It was hard not to smile at that point."
He also said the boys were looking forward to Mark Owen's wedding next weekend. The singer is preparing to marry his long-term fiancée Emma Ferguson, with whom he already has two children
Barlow remained tight-lipped about the event, but did admit the boys gave their bandmate a good send-off: "The stag do was good... it was grown-up messy," he joked.
The Children In Need concert takes place on 12 November and will be broadcast on BBC One on 19 November at 2000 GMT.