Cowell: 'I'm honestly not nasty'
X Factor judge Simon Cowell has admitted he's never really thought of himself as nasty, despite earning a reputation for being mean on his ITV show.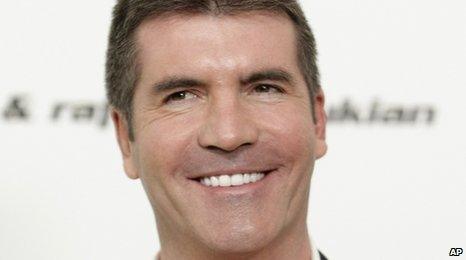 He was talking at he was announced as the new patron of national charity Children's Hospices UK.
He told Newsbeat: "I've never honestly considered myself to be nasty.
"Whatever people think of me genuinely is sort of irrelevant. Judging a talent show is a job, this is the real world."
At an event to promote his involvement with the charity, Simon got a grilling from some of the children, who were allowed to ask him any question they wanted.
'Why are you evil?'
He said: "I think one of them asked if I wore Y-fronts or boxers or something. My favourite question was at the end - 'Why are you evil?'
And the answer: 'It's more fun than being nice".
Let me tell you, outside the show, when you sit with him, he's not cocky, he's certainly not confident, he just wants a break
Simon on X Factor contestant Danyl Johnson
Simon admitted he had to turn a lot of requests for help down but that the reason he gets involved with charity work is to give "a little bit back".
He said: "Let's be honest, I've got a lot out of what I've done basically from support from the public.
"They've given me an awful lot. I have a great life, I enjoy my jobs but everything that's happened to me has happened through public support."
X Factor fans, who regularly see Simon giving his contestants the sharp end of his tongue, might be surprised to hear that he's actually quite fond of children.
'Still a kid myself'
He said: "I actually find them easier to talk to than adults, genuinely, and they're funny and they've always got opinions and you can learn a hell of a lot more from them than you do from grown-ups.
"I just like being around them, maybe because I haven't got kids. I like them, I can relate to them, I can talk to them, I get them, I get what their problems are, maybe because I'm still a kid myself."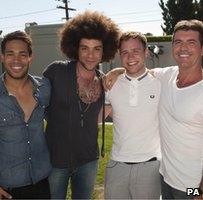 Simon admitted that doing charity work was a bit of a "leveller" and explained that the X Factor contestants had all got a lot out of their recent visit to Great Ormond St - the children's hospital that will benefit from this year's charity single.
However, true to form, he still had an opinion on X Factor finalists John and Edward, who he has previously described as "vile" and who have been causing a stir with their growing popularity.
He said: "I'm not going to lie, if they win it'll be a complete and utter disaster."
One of Simon's acts, Danyl Johnson, found himself in the sing-off last week, despite being one of the hot favourites, which means everyone's got to get their act together.
'Pep talk'
Simon said: "I've had a chat with my three contestants and we've got to work harder, particularly Danyl because he was in the bottom two and he was a bit down.
"But he's back on Saturday to prove a point that he shouldn't have been in the bottom two and we're going to be better than we were last week."
Simon dismissed rumours that X Factor bosses had held crisis talks last Sunday night after the show but admits they all had a "pep talk" about the song choices and performances which he says weren't as good as they should've been.
He thinks Danyl's got a bit of bad press after being dubbed "cocky" from day one but says everyone's got it wrong.
"Let me tell you, outside the show, when you sit with him, he's not cocky, he's certainly not confident, he just wants a break," he said.