Postal temp: 'I just want to work'
A second wave of nationwide postal strikes is under way after the latest round of talks between the Communication Workers Union (CWU) and Royal Mail management ended without agreement.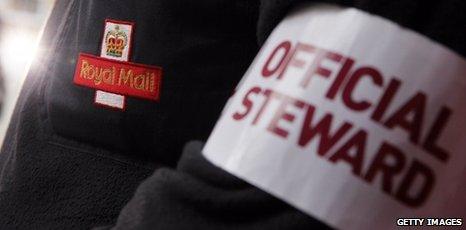 43,700 union members striked on Thursday, with a further two 24-hour strikes taking place on Friday and Saturday.
Royal Mail staff staged their first two days of strikes last week and have announced two more walkouts on Friday 6 and Monday 9 November.
The dispute is over worries that thousands of jobs could be lost because of the company's plans to modernise and bring in new technology.
Royal Mail have hired temporary staff to try to stay on top of the millions of undelivered letters and parcels that have built up.
Newsbeat spoke to one worker who's got a temporary job in a sorting office in Dartford about his views on the strike.
The man, who wanted to remain anonymous, said there were probably a few hundred agency staff employed at the office.
'Not great pay'
He told Newsbeat: "I'm clearing up the backlog of all the letters that are piled up due to the strike. That's it."
We just see it as an opportunity to do some work, get off the dole, just go with it, that's it
He said he used to work in security but had been out of work for a long time, and although the pay wasn't great, he really needed the money.
"I've been unemployed for more than six months," he admitted.
"You get grief from the job centre to go and look for work and when work like this arises obviously you're going to take it.
"Put it this way, it's better than being on the social, but it's not great pay. Mind you, the hours aren't bad - I'm doing six 'til two."
'Desperate to work'
Some Royal Mail staff have been protesting at delivery centres to try to convince other workers not to go in.
The man revealed he'd been approached by strikers who handed him leaflets about their action, and although he sympathised he said he just really needed to work.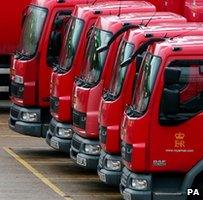 "I got a bit of grief this morning. It's got nothing to do with me. I'm just here to earn my money and go home.
"I'm not the one that put them in that position, so really they shouldn't be taking it out on us... They should be sorting it out with the government," he said.
The man also argued that if temporary workers weren't employed then it could make life difficult for full-time staff when they return to work.
"If they're not doing the job then all these letters are going to pile up and it's going to be even worse for them later on," he said.
The postal workers union, the CWU, estimated that at its peak last week's strike caused a backlog of 100 million items.
However, the Royal Mail itself estimated that by the close of play on Wednesday the figure was around two million items.
He continued: "Most of them [other temps at the centre] sympathise with the posties but at the end of the day when you've got work presented to you you're going to do it.
"We just see it as an opportunity to do some work, get off the dole, just go with it, that's it."