Miss Frank deny Danyl is 'cocky'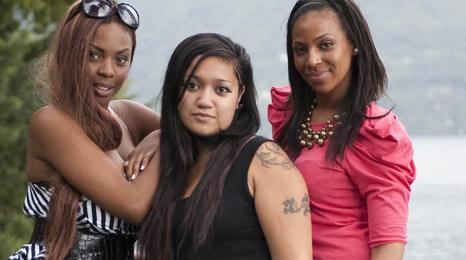 Former X Factor group Miss Frank say rumours that Danyl Johnson is too full of himself are "rubbish" and that he's actually "humble and sweet".
The trio, who were voted off on Sunday's show, say people shouldn't believe all they read about the singer.
They insist his on-stage persona is very different to what he's like in the X Factor house.
Saturday's show was the most enjoyable performance from us. We went out, we loved it. I feel we really came together
Miss Frank say they put on their best performance before being voted out
"He's got it down, he knows how to be a performer," said Graziella. "He puts it all out there on stage, but when he comes off he's super-humble, super-caring.
"That armour he wears to fight for his position in the competition, he just takes it off."
Danyl is a also a bit of a domestic goddess, the girls revealed, and loves cleaning up and helping others by doing the laundry and changing the beds.
On the subject of their own X Factor journey, Miss Frank said they were "absolutely gutted" they were voted off but glad they went out on a high.
'We loved it'
"Saturday's show was the most enjoyable performance from us," said Shar. "We went out, we loved it. We did it for us. I feel we really came together."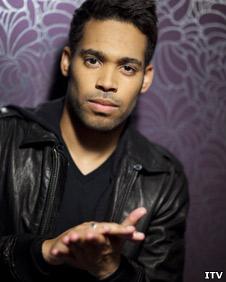 The girls said they were happy to get good feedback from Simon but admitted teasing him for comments he'd made about the group.
In a previous week, Cowell had labelled Shaniece and Shar as "bookends" to the talent of Graziella.
Shaniece said: "That was alright, we made a little laugh about it when we saw him and were like, 'I'm bookend number one and she's bookend number two!'"
The London three-piece also jumped to the defence of the much-criticised Irish twins, John and Edward.
The 18-year-olds regularly get boos from some of the studio audience and their singing ability has been panned by the likes of Simon and Cheryl.
'Deserving winners'
"I'm so upset that people have the audacity to boo them," said Shaniece. "They're young guys, they try so hard."
Graziella added: "They might not be the greatest singers in the world but as entertainers they push the boundaries. They deserve it more than anybody else."
The group said they were now looking forward to the X Factor charity song coming out, a cover of Michael Jackson's You Are Not Alone, and that the next step was to get a record contract of their own.
"We're going to sit down and write some songs together," said Shar. "We've got so many ideas, so much creativeness within us that's just dying to come out."
"We've got a lot of fire that needs to be tamed," added Graziella. "We need someone to come along and get our signatures on the dotted line."