Fight for the future of fishermen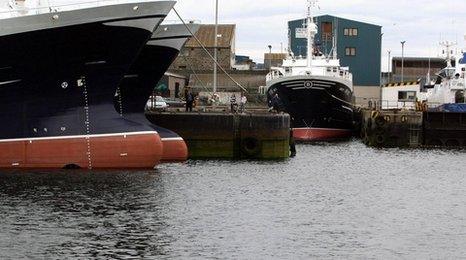 Young fishermen in Scotland face an uncertain future, with fish prices plummeting and skippers reaching their quotas too early.
Some of them have decided to do something about it and are hoping the EU can help secure their livelihoods.
As crews unload their catches for the early morning fish market in Fraserburgh, 15-year-old Alexander West looks out longingly across the sea.
A night of heavy storms means he won't get to go out on his father's boat, The Virtuous. It'll be a day of cleaning and maintenance work instead.
He told Newsbeat: "I just want to go to sea because it's all I've seen growing up.
"I've just seen my dad doing it, my granddad doing it, my great granddad doing it. It's been in the family for hundreds of years. It's what my town is based around and I just want to go away and do it."
But Alexander is unusual. He's one of only two in his class at school to choose a career as a fisherman. He's got another year left, then it's the start of a new life out at sea fishing for prawns.
'Way of life'
He says: "It's not just a job, it's a way of life. If you've been brought up in the fishing industry, it's all you know."
It's teenagers like Alexander who are rare in this industry. So rare in fact, there's a worry if more don't start taking an interest, it could mean serious problems for fishing towns like Fraserburgh.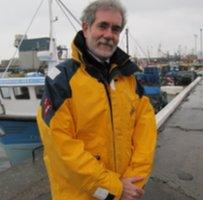 Bertie Armstrong is the chief executive of the Scottish Fisherman's Federation.
He said: "If young people don't join the industry and we don't make it attractive then the industry will go into a downward spiral and towns like Fraserburgh will by default die.
"That's a criminal act when we have a world class, renewable, accessible source on our doorstep which is ours to harvest."
Between 1997 and 2007, the number of fishermen in the north east of Scotland fell by 40.7%. In Fraserburgh alone, that figure was closer to 50%.
Early quotas
Part of the problem is money. Fish prices have plummeted in the last year because of the recession.
In turn many skippers have had to catch more to meet the bills and have met this year's quota already.
If you look out onto the harbour in Fraserburgh and in neighbouring Peterhead, several cod boats are moored up.
They're forbidden to catch any more and so will lie dormant for the next two months until the new EU quotas come in in January.
I would have preferred it if he had stayed on at college and done a bit of engineering and maybe got another job
Alexander's father Sandy on his son's passion for the fishing industry
Seventeen-year-old Ryan Mcrobbie's dream is to become a skipper. Fishing's been in his family for six generations. He's a crew member on a boat that's already met its cod limits for the year.
"We've had to change to prawns just to try and make a living and make some money," he said.
Fishermen may be angry about these strict EU rules but there is a reason for them. Although the cod stocks in the North Sea are starting to recover, they're still below the safety levels.
Jeopardising stocks
Louize Hill is the marine policy officer at WWF Scotland. She said: "In order to ensure no species of fish is threatened due to over fishing, it is vital scientific assessments are used to set quotas.
"Setting quotas above scientific advice or catching more fish than advised will jeopardise the long term survival of fish stocks and therefore the future of the fishing fleets."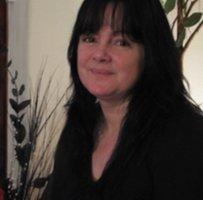 But for skippers and crew members taking a break in Angela's tea bar in Fraserburgh, the promise of harsher quotas to come next year is also a problem.
Alexander's passion for the fishing industry is a worry for his father Sandy.
He said: "I would have preferred it if he had stayed on at college and done a bit of engineering and maybe got another job. But fishing's in the blood and that's what he wants to do."
That is why Alexander, Ryan and a few of their friends are meeting the Scottish Fisheries Secretary, Richard Lochhead.
They're hoping he can work with the EU to secure their livelihoods.
Carol MacDonald from the campaign group, Cod Crusaders is going with them.
She said: "At the end of the day we're simply fighting to preserve a way of life within traditional fishing communities.
"We need those in power to make sure there's going to be an industry here for Alexander and many to follow in his footsteps."
For teenagers like Ryan and Alexander, they've seen their families and other fishermen struggle but it's something they care too much about to leave behind.