'In a split second my life changed'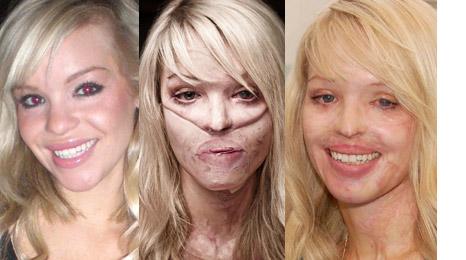 An aspiring TV presenter and model who had acid thrown in her face has been talking about her ordeal in a new documentary.
Katie Piper, 26, was left with serious burns to her face and neck after an ex-boyfriend paid someone to attack her after she ended their abusive relationship.
She had to have a revolutionary skin graft treatment because her injuries were so deep and now has to wear a compression mask to help her face heal.
However, Katie says that 18 months on she's very happy with the way her skin is recovering and that she made a decision early on not to give up.
"In a split second my life changed forever," says Katie.
"In hospital having the first stages of the surgery it could go either way.
"Either I could let my attackers win and go into a shell... or I could rebuild a very differnet life, but still have an amazing life."
Katie says she wants to draw attention to the special treatment she had in the hope it could be used to help other burns patients.
Cutting Edge - Katie: My Beautiful Face is on Channel 4 on 29 October at 2100 GMT.