Papers fooled by fake celeb stories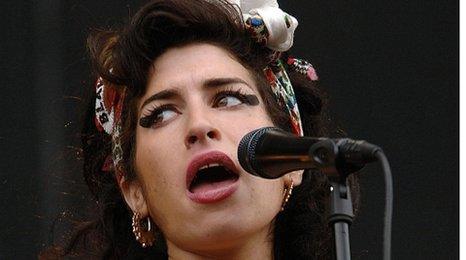 A documentary maker claims he has exposed how easy it is to get fabricated stories about celebrities published in national newspapers.
Starsuckers shows a documentary team managing to get fake stories about celebrities such as Amy Winehouse into papers like The Sun, Mirror and Daily Star.
Newspapers often advertise phone numbers and invite people to call in with a story, so the documentary makers did just that.
One researcher managed to convince the Mirror and the Daily Star that Amy Winehouse's hair had caught fire from a faulty fuse.
It appeared in the Star under the headline 'Amy's beehive is a flaming mess'.
'Complete nonsense'
The documentary's director Chris Atkins explained what happened: "We got a tip off that Amy had moved house recently to Barnet and her lights had all gone out one night, so this was the basis of our story."
"We just said that Amy's hair set on fire, that was it. The Star then added their own details to it that said: 'A friend of hers ran in and punched her in the head to put the fire out.'
FAKE STORIES THAT MADE THE NEWSPAPERS
Guy Ritchie gave himself a black eye whilst juggling some cutlery
Sarah Harding has a huge collection of books on quantum physics
Pixie Geldof padded out her bra with a packet of sweets
Russell Brand admitted he wanted to be a banker when he was young and also had a toy cash register
Avril Lavigne fell asleep in a nightclub after a night out
"Complete, complete nonsense from start to finish."
The aim of the documentary was to show how easy it is to get hoax stories about celebrities into the papers.
Chris says the reporters didn't even make basic checks to see if the stories were true before printing them.
Other fake stories they managed to get into the papers included Guy Ritchie giving himself a black eye by juggling cutlery and Pixie Geldof padding out her bra with sweets.
Chris says his favourite story is one about Sarah Harding's interest in quantum physics which was published all over the world.
He added: "They put everything in that we had said but they also made up some quotes - that's the other hilarious thing about tabloid journalism, is they just make up quotes.
'Making it up'
"So whenever you see: 'A friend said' or 'a chum said' or 'a pal said', that's just the journalist making it up."
"It's a really nice study in seeing first of all where these stories come from - they come from people who are skint and fancy a laugh and want to sell stories to papers.
"Then the newspapers add their own details, they add their own quotes and then they get picked up by websites and they go all over the world.
"So the Amy Winehouse hair story ended up in The Times of India, which is the largest selling English speaking paper in the world."
Newsbeat has asked The Sun, Daily Star and Mirror for their response to the story and they all had no comment.
Starsuckers is released in selected cinemas on 30 October