Introducing…Local Natives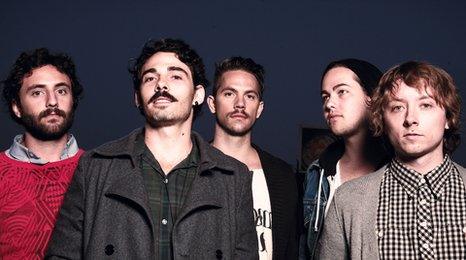 Imagine the scene, you're trying to get through the door to the house but there are drum kits, guitars, keyboards, all manner of instruments clogging the hallway like some kind of Moroccan bizarre.
Welcome to Gorilla Manor the three bedroom house in Orange County, California which Local Natives [the five of them, plus one of the band's girlfriends] live together in.
It's also the title of their debut album out in November via the same label which has birthed The Temper Trap and northern Irish rockers General Fiasco.
"There's only supposed to be four in the house so we've got two mystery members our landlord doesn't know about," admits drummer Matt Frazier sheepishly.
Shared house
The 'Manor' then sees Matt, Andy Hamm (bassist), Ryan Hahn (guitar, vocals), Taylor Rice (vocals, guitar) and Kelcey Ayer (vocals, keyboards) living in close confines.
"We're all kind of accepted the fact that this band is pretty much a marriage," laughs Frazier.
"It enables us to maintain a really productive relationship.
"For a band that spends so many hours together we operate really well as a unit. We're all there around our $65 rickety piano working on melodies."
Despite the fact they reside together Gorilla Manor is positively spacious compared to their normal life on the road.
"We're used to being in a van where we're literally on top of each other for weeks at a time so the fact that I have my own room seems like a whole new world to me," says Hamm.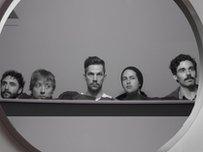 On site it's not just the washing up that is a collaborative effort, the songs - reminiscent of Grizzly Bear, Animal Collective and Spinto Band - on their debut album are all jointly written.
"It [the songs] stem from anyone of us. It tends to be a little more tedious than some other methods I guess but it works out for us," says Frazier.
"We know each other well enough so it never comes to a true fight or anything too violent," adds Hamm.
"We also know each other so well that it's easy to get on each others nerves.
"We're a very democratic group, when a decision needs to be made its easy to shout down the stairs."
Festival breakthrough
It was at this year's South By South West festival in Texas where the quintet first had industry tongues wagging - an event which saw them labelled as the one's to watch.
"I think that's the goal - to get away from the 'buzz band' [tag] and prove our worth," smiles Frazier.
We know each other well enough so it never comes to a true fight or anything too violent
Andy Hamm: "I don't want to be a buzz band.
"It's like when I hear about a band from a friend I don't want to hear about it from too many of them because I'm like its just another buzz band everybody is jumping on and they don't know why.
"My last wish would be for that to ever happen to us."
Incessant touring - they've just come off the NME Radar tour around the UK - is seeing them shed that title. And also discover a healthier lifestyle in the process.
"A cream cheese sandwich, a thing of cous cous or humus is very much considered a delicacy in the states," ponders Hamm with a straight face.
"I joked about it, but I think that the average American would probably think that a cream cheese sandwich is some type of animal."
Less healthiely they've also aquired a taste for Snakebite (cider, beer and blackcurrant) on their travels around Britain.
"The '14-year-old first starting to drink' cocktail," laughs Hamm. "We've never had cider, cider doesn't exist in the states. I feel so guilty to say that I like a Snakebite."