Wolfmother weather 'insane' period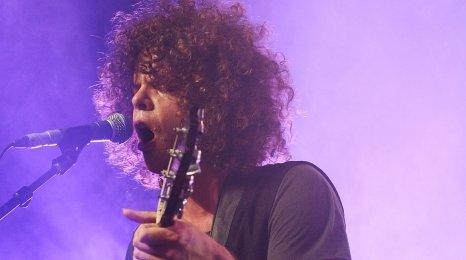 It's the early months of 2008 and the three members of Sydney rockers Wolfmother reconvene to begin writing a second album.
But something isn't right.
"We did our best but beneath all of the pleasantries and positive thinking we could feel that it wasn't clicking," says lead singer and guitarist Andrew Stockdale.
"Beneath the surface we knew it was a bad relationship, not a bad relationship but you just reached a point where it's time to change - not to work with each other, to be better off."
Messy split
The truth, according to Stockdale, was that following the success of their Grammy award winning self-titled debut album and its single Woman, the trio had grown apart.
"[Bass player and drummer Chris Ross and Myles Heskett] had their own rehearsal space in Sydney," he says, more in disbelief than anger. "I didn't know what they were doing.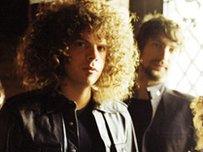 "You know when you have a holiday and some people tell you what they've done on the holiday and some people don't tell you - that was kind of our relationship."
In August 2008 an official statement was released citing "long standing frictions" for their break up.
Unsure of whether the band even existed any more he felt confused.
Raconteurs help
Of course, time was ticking. It'd be three years since their 2005 breakthrough and the band's management and labels were demanding new material.
Seven days after the split Stockdale, minus a group, was booked onto a plane to LA to record the band's second album.
Fortunately a friend was on hand, Patrick Keeler from Jack White affiliates The Raconteurs. He came to meet him in the studio to help him nurture fresh ideas.
"He came up and we started playing as Wolfmother. It was a really weird stressful time - everyone was telling [me] their opinion.
"Patrick had to finish off some Raconteurs dates so he couldn't commit to being part of Wolfmother until January or February so I said to the label, 'I'm out of here I'm going home back to Brisbane - this is too much'.
"I started a band with two dudes who lived across the street."
Back home
Sessions abandoned the curly haired lead singer returned to the sanctuary of his Brisbane home and built a studio in the basement.
"It'd just gotten so ridiculous, the expectation was insane. I was just like, 'Forget it'.
"It was so good to be isolated from everyone's opinion," he says. There he began writing a new song every day.
"It got to December [2008] and I realised that for better or worse I've got to start a band."
Enter new members Ian Peres, Aidan Nemeth and Dave Atkins. Friends from the past with the idea of going "just back to basics".
With new material in tow - the new unit played some comparatively small Australian club shows in early 2009 under the secret name White Feather.
In the musical conversation that was Wolfmother there was more to be said
Andrew Stockdale, Wolfmother
"The feedback was amazing," enthuses Stockdale. "You've got to face judgement. You can't hide from that. It was a pretty exciting time."
Overwhelmed by the hunger for new material - Stockdale was rejuvenated, ready and prepared to launch the band again.
The result is Cosmic Egg - recorded in Byron Bay Australia and in LA with producer Alan Moulder - an album of gigantic riffs, whaling guitars and Stockdale's infectious falsetto vocal.
"In the musical conversation that was Wolfmother there was more to be said," says Stockdale pausing finally. "So I feel glad that I've done this record".
Cosmic Egg is released on 26 October