X Factor finalists reveal their secrets
The live finals of The X Factor start this weekend (10 October) with the 12 remaining contestants hoping they won't be the first act to be voted off the show. They've been getting all buffed up in preparation for their moment in the spotlight and have taken time out to share some of the backstage gossip.
Danyl on Simon's "best first audition ever" comments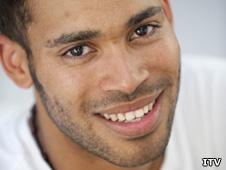 Simon Cowell called Danyl Johnson's opening song on The X Factor "the best first audition I have ever heard".
The 27-year-old theatre school teacher from Reading sang Joe Cocker's Beatles cover With A Little Help From My Friends and says the pressure's now on.
"Where do you go from there? Simon stands up and says what he says and you're like, 'Right. Great. Now I'm going to be rubbish'.
"You know what I mean? Where do you go from there? At boot camp I properly suffered from that because it was like, 'What else do I do?'
"There was only one place for me to go from there. To continue you have to try to hit those highs. I think this whole show's a journey."
Stacey Solomon on romance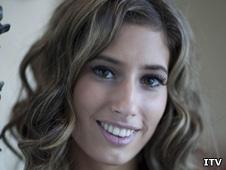 Stacey Solomon made it into the last 12 after Kylie Minogue said she had a "lovely tone to her voice".
The 19-year-old single mum from Essex impressed the judges with her rendition of What A Wonderful World.
She says she doesn't fancy any of the other contestants.
"It always gets boring when it comes to this question because nothing's happening. I've got nothing to say about romance.
"Olly looks like my stepbrother, Lloyd is beautiful but really, really young and I don't think I'm Rikky's type."
Rachel on John and Edward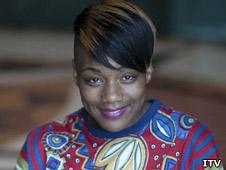 Rachel Adedeji made it through to boot camp last year but didn't make it to the live shows.
The student, 17, has appeared in West End musical Mamma Mia! and sang If I Ain't Got You by Alicia Keys at her audition in London.
She says she loves Irish duo John and Edward.
"Edward's better looking than John. Edward's the cheerful one and he's always like, 'Yeah, yeah, yeah'.
"If you're humorous and good looking, that's it, you're mine. I don't fancy Edward but I think he's so adorable. If I was 14 I'd get him."
Jamie Archer on Louis not liking the over-25 category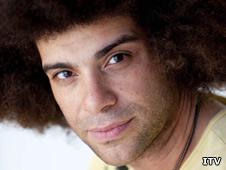 Jamie Archer rocked his first audition in London getting the crowd to sing his version of Kings Of Leon's Sex On Fire.
The 34-year-old musician is the oldest contestant on the show this year but was described as a "natural-born entertainer" by Cheryl Cole.
"One of the great things about this show is you can take people who aren't sure about you and win them round. It's a challenge that we're really excited about.
"I want to win Louis round. I want to win all the judges round. We all want to win the nation round.
Olly Murs on having Simon Cowell as his mentor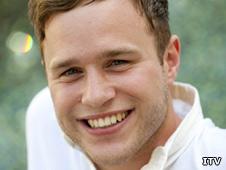 Simon Cowell described Olly Murs as "cool" after his performance of Stevie Wonder's Superstition at his first audition.
The 25-year-old customer adviser from Essex still lives with his parents and didn't make it past the first round of The X Factor last year.
He says Simon Cowell is the perfect mentor for the over-25s.
"He's the judge you want. As soon as you get in this competition, he's the guy you want.
"He's the only comment you listen out for, not in a horrible way because obviously the other judges are always as good as each other.
"But anyone who watches the show at home, you hear Louis, then you hear Dannii, then you hear Cheryl and then all of sudden you're like, 'What is Simon going to say?' because he is so honest.
Kandy Rain on looking 'hot'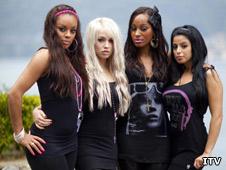 Kandy Rain met at an audition a year ago to be a part of a seven-piece girl band. Nothing ever came of the project but the girls stuck together as a quartet.
Stories about the girls working in lap dancing clubs have also appeared in the tabloids newspapers recently.
"We're really excited about the outfits we're going to be wearing," said the girls.
"We're on the same wavelength as the stylists, and Louis has an input as well.
"We just feel everyone gets Kandy Rain's style and all I can say is Saturday night we're gonna look hot."
John and Edward on their hair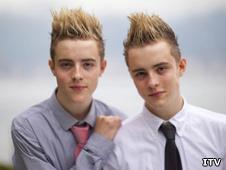 17-year-old Irish twins John and Edward were labelled as "vile little creatures" by Simon Cowell but their mentor, Louis Walsh has likened them to hit 80s bands Wham and Bros.
"It used to take us five seconds to do but now the stylist wants us to blow dry it.
"I'm like going up the girls' rooms and going, 'Can I borrow your blow dryer?' And they're like, 'No'."
The twins have also been getting some guidance from Robbie Williams and said they were chuffed he lived up to their expectations.
"He was really really nice. He's just genuine. He's himself, we really like him for that. He's contributed so, so much to the music industry. Everyone loves Robbie Williams."
The boys on getting a taste of fame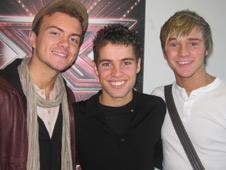 The three boys left in the competition are Rikky Loney who's 21 and from Glasgow, 16-year-old Lloyd Daniels from south Wales and 18-year-old student Joseph McElderry from South Shields.
Their mentor this year is Cheryl Cole and although the boys aren't one of the favourites, they're still attracting a lot of attention and admit it's taking a bit of getting used to.
"Monday was the first time we were allowed out," says Rikky.
"We walked out the gate and there was literally like 25 paparazzi there, loads of people shouting our name. It was so surreal."
"We've got paparazzi outside our house, school kids coming from schools, screaming girls," says Joseph.
The X Factor live show featuring the final 12 is on Saturday 10 October at 2000 BST.