Glastonbury sells out in a day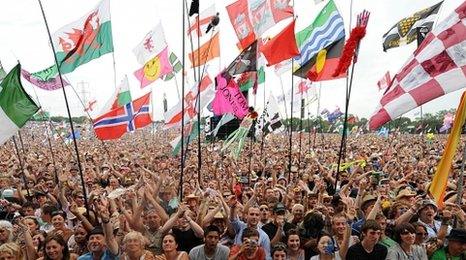 Tickets for next year's Glastonbury Festival have sold out in less than 24 hours after going on sale on Sunday morning.
People who had registered in advance were able to buy a ticket or pay a £50 deposit to reserve one before paying the full amount by 28 February 2010.
Tickets are £10 more expensive than in 2009 with a pass for the three days of the festival costing £185 with a £5 booking fee and £4.95 postage.
Last year tickets took several weeks to sell out, and the year before there were tickets available right up until the festival.
Glastonbury organisers stuck with the same ticket registration system employed last year with anyone over 13 having to register their details before passes for the Pilton Farm festival went on sale.
A statement on the Glastonbury website read: "Tickets for Glastonbury 2010 went on sale at 9am this morning (Sunday 4 October) and the festival's 40th anniversary is now sold out.
"Thank you to all those who bought tickets. Confirmation emails are still in the process of being sent out.
"For those who didn't manage to reserve or buy tickets today (Sunday), there will be a small number of tickets on sale over the coming weeks when any failed transactions have been cancelled.
"For anyone who is not already registered, registration will reopen at 9am next week (Monday 12 October) at www.glastonburyregistration.co.uk."
Last year's event was headlined by Neil Young, Bruce Springsteen and Blur.
2010 will see Glastonbury festival celebrating its 40th anniversary.
Have Your Say: Are you going to Glastonbury?