N-Dubz work with Take That 'legend'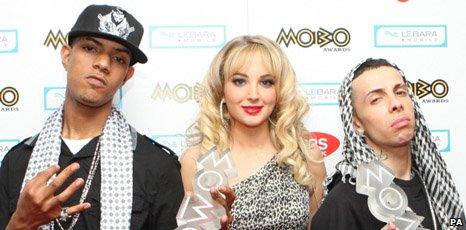 N-Dubz have revealed they've been recording new material with Take That's Gary Barlow.
Group member Fazer said: "He came in the studio and it was great - he had time for the underdogs and he came and wrote a smashing hook."
Neither a title or a release date for the song have been confirmed but the London rapper confirmed the trio are also close to a collaboration with Kylie Minogue.
He added: "Something will actually come out of this - the negotiations are almost done and there should be a track with Kylie and N-Dubz and it'll be a smash."
'Big tune'
The band were speaking before they collected two prizes, for best UK act and best album, at this year's Mobo awards.
Speaking before the ceremony Frazer said: "We've done a big tune with Gary Barlow. We're not narrow minded you get me, we can make big tunes, and we can make massive hooks, big concepts that's why we've got Gary Barlow in.
"It ain't Take That, it's Take Braaaap. Legend…"
N-Dubz's debut album Uncle B was released last year, their second album is expected to be released in November.