Paramore reveal Twilight secrets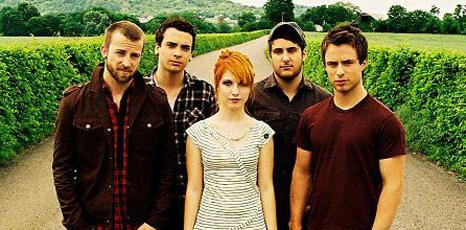 More than just an album title, brand new eyes is a fresh mantra Paramore have adopted.
"It's something we're living by right now as a band and something that's helping us each day," says flame-haired singer Hayley Williams.
"Just looking at each other and looking at our situation - whatever comes at us - through a new set of eyes."
A point made all the poignant following a swath of rumours that band relations were frayed surrounding the departure of guitarist Hunter Lamb in 2007.
Fresh start
According to the band things have finally settled.
"There's no room to be selfish and you can't have judgement and anything like that when you're touring, you're living together and you're in such close quarters all the time.
"It's just about having a new perspective," Williams reasserts.
It's a clean slate time for Hayley, Josh, Jeremy, Zac and Taylor.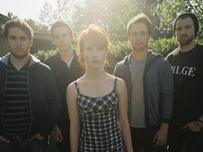 In five short years the Franklin, Tennessee band have become one of America's biggest musical exports, a pop-punk phenomenon whom over their three-album career have positioned themselves as the Bebo generation's favourite band.
And they're still young, bassist Jeremy Davis is the quintet's senior figure at 24.
Consistant praise has turned to sales too. 2007's Riot! left the shelves over a 100,000 times in the UK.
Twilight success
Success meant invitations began flooding in.
One they capitalised on was to be part of (then unknown) US vampire movie Twilight last year. Contributing tracks Decode and I Caught Myself to the project.
"I don't think we had any idea what it would become," says Josh of the film series. "It's really cool to look back. We didn't do it to be this massive thing for us we were just going to have fun on a movie."
Getting involved opened lots of new doors, not least of all a chance for Williams to interview Robert Pattinson (Edward Cullen in Twilight).
It was really surreal because I feel like now I will never die because I'll be in Guitar Hero
Hayley Williams, Paramore
"I sat down with him and had a little candle lit interview," she says blushing.
"It was really funny because they set it up as if we had known each other for years but we'd just met. I realised, we did the interview and it was kind of awkward and once we were out of the interview and we were just hanging out it was totally cool.
"It's just strange that cameras and Hollywood stuff, it's a new world for us - we've never been a part of it."
Virtual world
On the subject of new worlds, Paramore have recently been inducted into the virtual world and immortalised as characters in Guitar Hero.
"I'm really stoked about it," says Williams. "Especially for me, the fact that they came to me as a singer and were like, 'Hey we're going to have a singing option and we want you to be a character'.
"That was really cool, that they came to me and I'm the first girl that got to be in it.
"It was really surreal because I feel like now I will never die because I'll be in Guitar Hero."
But all this deflects from the fact that Brand New Eyes is their most accomplished, meaty - in subject matter and sound - album yet.
Lyrically the band's own internal strife is tackled but for the moment they're emphasising how "raw" it sounds.
"Riot! was really clean cut and really perfect but we wanted it to be a little more raw and feel real," says Josh before they're rushed to their next engagement.
Paramore - a band with a new outlook.
brand new eyes is released on 28 September