Obama asks world to work together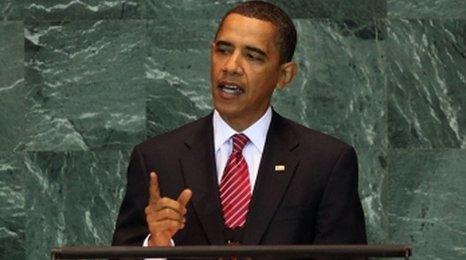 I can't do it all by myself. That was Barack Obama's basic message to the leaders of more than 100 countries in New York.
The US President has made a speech at the United Nations General Assembly for the first time.
He said countries must work together to tackle problems including war, climate change and economic crisis.
"Those who used to chastise America for acting alone in the world cannot now stand by and wait for America to solve the world's problems alone," Obama said.
The President admitted that when he was elected the US was not very popular with some countries.
"Many around the world had come to view America with scepticism and mistrust," he added.
But he called on world leaders to work together and engage with the US to get things done.
"We must build new coalitions that bridge old divides... All nations have rights and responsibilities. That's the bargain that makes this work."
Now is the time for all of us to take our share of responsibility for a global response to global challenges
Barack Obama received a warm reception from leaders in the room, keen to hear a different message than that of George W Bush.
Troop withdrawal
But the President warned them that they had to be prepared to do their part.
"Nothing is easier than blaming others for our troubles and absolving ourselves of responsibility for our choices and our actions," he said.
"Now is the time for all of us to take our share of responsibility for a global response to global challenges."
Barack Obama re-stated his commitment to withdrawing all US troops from Iraq by the end of 2011.
He devoted a large part of the speech to the issue of peace in the Middle East saying there must be "negotiations without preconditions".
Meanwhile, Downing Street is denying that US President Barack Obama snubbed Gordon Brown on five different occasions during the Prime Minister's visit to New York.
Number 10 insisted claims that requests for one-to-one talks had been rebuffed were "completely without foundations".
The spokesman said that the two leaders had already had one wide-ranging discussion and would be meeting again.
Barack Obama did hold talks with the Japanese, Chinese, Russian and Indian leaders in private.
But there's been no formal sit down with Gordon Brown. Instead, the two men met for a few minutes in the UN kitchen after dinner.