Rooney road tests Stereophonics' new LP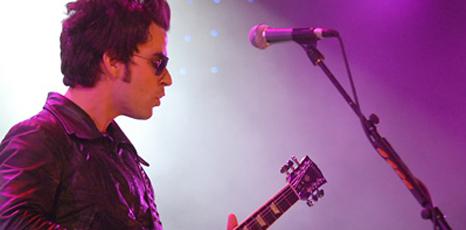 Stereophonics' Kelly Jones has revealed that he's given Wayne Rooney a copy of the band's forthcoming seventh album.
"I popped by and gave him an album promo and within about 15 minutes of me driving away he was texting me his favourite songs - he was into it," said the lead singer.
A long time fan, the footballer has the name of a Stereophonics album tattooed on his arm and the group played as part of Rooney's wedding celebrations.
Keep Calm And Carry On, the follow up to 2007's Pull The Pin, is released in November.
Unlikely friendship
"I took the album to Rooney the week before the day they were playing Tottenham," revealed Jones.
"He scored a belting goal that day as well and I can only put it down to the music really. Hopefully he's going to cover his arms in lots of tattoos of the song titles - he's a big fan.
Hopefully he's going to cover his arms in lots of tattoos of the song titles - he's a big fan
Kelly Jones on his friendship with Wayne Rooney
"He liked a track called She's Alright and he liked another one called Stuck In A Rut. He was just really excited by it. I'm a Leeds fan but starting to watch a lot of Man United games to see what his reaction to the music is."
Concluded in July, Keep Calm And Carry On, named after the "old World War II propaganda poster", is produced by Jim Abyss (Arctic Monkeys, Kasabian).
A deliberate move by Jones to get someone fresh involved.
"It's nice to stir up the band a bit really because you get into a comfort zone - I wanted someone to upset the apple cart."
"We're probably the only band in the world who are mates," he joked, dismissing any squabbles over bringing a new pair of ears in. "We're lucky that we all get on and there's no big egos getting in the way of things of what we do best."
Jones penned
The majority of the tracks were written, as with previous albums, by Jones whilst on the road.
"I've never felt that I've needed to lock myself away in a log cabin and write for six months. I keep the tap dripping," he explained, describing the new sound as "a lot more intricate, a lot more space on it".
"The band's in a really good place, everybody in the band is happy. We're not just churning out crap just to be around," he added.
Despite the fact over the 12 years of their career the trio have had 5 number 1 albums, they're not taking the success of their albums for granted.
"I do feel nervous," said Jones. "It's a strange time in music at the minute. In that you can work really hard on a project but it might not be the right song for that time and it goes away and then the whole project goes away.
"Young bands don't get time to develop any more.
"For established bands you have to come out with the best song you've ever written in a way to compete. This is what I've been doing since I was 12, I don't really know how to do anything else."
Stereophonics will shortly announce details of a new UK tour for spring 2010, they'll also play a one-off show at Cardiff Castle on 3 October.