Concern over rape case recording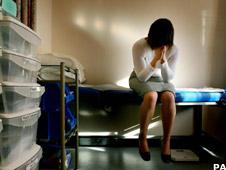 Hundreds of rape claims reported to police across the UK don't end up in official crime records, figures obtained by Newsbeat show.
Answers to questions placed to every police force in the UK under freedom of information laws revealed variations in numbers of rape crimes removed from formal databases in a process known as "no-criming."
It should only happen to allegations that are established to be false, reported to the wrong force, or recorded in error.
Figures show between April 2007 and March 2008 some constabularies "no-crimed" almost a third of cases.
It's also emerged that some forces never recorded hundreds of allegations in the first place, meaning investigations weren't carried out.
Between April 2007 and March 2008 there were 2701 claims of rape in London but only 1847 were recorded as crimes.
Four-hundred-and-sixty were no crimed and deleted from the records, 396 were never put on the books in the first place.
In Northumbria there were 382 reports of rape, but 172 of those never made it into official Home Office figures.
In Humberside, Gloucestershire, and Northamptonshire at least 90% were recorded for investigation.
But in Durham where the force says it "no-crimed" just five of 130 cases, it emerged there were a further 83 cases that never got onto the official recording system.
Have Your Say: Are rape cases dealt with well enough?
Police defended
Women's groups say they have concerns that victims are being denied justice.
Sharon Smee of the women's campaign group, the Fawcett Society said: "We're not seeing victims getting the support, the safety and the justice they deserve from the system."
Chief Constable Dave Whatton, who speaks for The Association of Chief Police Officers on rape and serious sexual offences, has defended the way police forces handle rape allegations.
There is much more to do
Association of Chief Police Officers
"Rape is a uniquely difficult crime to investigate", he said.
"Every inspection and review in recent years has agreed that in the UK we have great examples of best practice and some of the best training in the world."
Two yeas ago a report by Her Majesty's Inspectorate of Constabulary (HMIC) called for greater consistency in the way cases were recorded and "no crimed".
Whatton admitted "there is much more to do" to ensure rape cases are handled in the same way but following the HMIC review, a specialist team was currently working on the problem.
Chief Constable Whatton added that women shouldn't be put off reporting rape and should still have confidence that police would deal with their case "sensitively and robustly".
After seeing the figures obtained by Newsbeat, the HMIC said it was concerned.
"High or low "no-criming" rates are not necessarily directly evidence of bad or good practice.
"(But) if this degree of variation were to be confirmed... it would be of concern and would undoubtedly be a focus for both the Rape Monitoring Group and for attention in the next inspection."