'Pro-anorexia sites made me worse'
Psychiatrists want more done to crack down on websites that promote eating disorders. They say there's been a big rise in the number of vulnerable people using them. Catherine is now 20 and is recovering from eating disorders anorexia and bulimia. She used pro-anorexia websites for more than two years.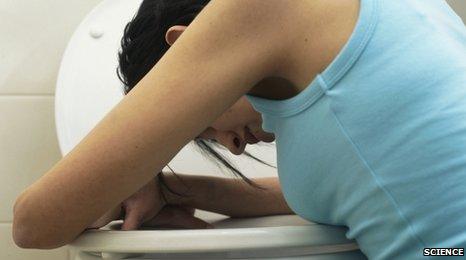 "It'd start off [visiting the websites] maybe a couple of times a week. But the more you go on them, the more you want to go on them and you end up being on them all day.
"They're definitely a kind of a support system because you think you're on your own. Then you go on these sites and there's people who know exactly what you're thinking, where you've never found anyone who does before.
"In one way you're not on your own and you've got people helping you but then in another way they're making you worse as well.
"Talking to the other people on there, it kind of gives a weird, competitive edge.
"I don't think you should ban them completely because, at the end of the day, the people who make them, the people who go on them, they're really ill people.
"To just shut them down and forget about those people isn't really the best idea.
"They're too easy to find. There needs to be more responsibility taken and a bit more restriction on them.
"There needs to be more confidence websites. Maybe when you go and search for these websites something the total opposite will come up and maybe you'll have a look at that and maybe some of that will sink in.
"There should be a bit more care out there. A bit of a realisation that there's people going through a lot out there and just take a bit of responsibility for it."