Ant & Dec: 'Our book was therapy'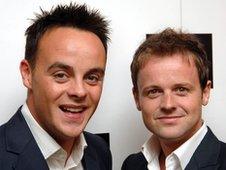 Ant & Dec say writing their autobiography wasn't as easy as they first thought and meant facing up to some difficult times in their career.
The book, titled Ooh! What a Lovely Pair, tells the story of the boys' 20 years together.
It covers their early beginnings in kids' drama Byker Grove, their brief pop career as PJ & Duncan, and their transformation into primetime TV hosts for shows like I'm A Celebrity...Get Me Out Of Here! and Britain's Got Talent.
However, Dec (Declan Donnelly), admitted that digging back into the past was uncomfortable at times.
"It was a little bit like going through therapy," he said. "We started out about a year ago and said, 'Oh we're gonna have some much fun writing this'.
"At the end of a couple of sessions we said, 'It wasn't all fun was it? It wasn't all fun and games.'
"It was a little bit of a rollercoaster going through the 20 years, going through the highs and lows."
Ant, (Anthony McPartlin), agreed that the book helped the friends "exorcise a few ghosts" but said he could "look back now and smile".
However, the 33-year-old insisted that the book wasn't meant to be a warts and all account of their private lives.
"It's very much a career autobiography with stuff that's happened to us and hopefully funny anecdotes.
"It's very much from our perspective rather than skeletons in the closet, family and all that stuff."
One fight
The Newcastle pair met in their early teens playing PJ & Duncan in the BBC's Byker Grove. They became best mates off-screen and started a pop career when they left the programme.
After a stint presenting Saturday morning shows SMTV and CD:UK in the late 1990s, the pair's cheeky charm has seen them front some of the country's most popular shows.
I just tried to knock his cap off. It was a pathetic attempt
Dec on the pair's only fight
The boys are also reported to be in talks to take their Saturday Night Takeaway show to the US.
But Dec told Newsbeat that their success wasn't due to some big deliberate plot.
"It wasn't all through great planning I have to say. It's been more luck than judgement I think."
Spending nearly all of their time together should surely be a recipe for a few juicy tales of fights and bruised egos. But Dec says despite what people might think they really do get on.
He did reveal the pair's one and only scrap though: "I just tried to knock his cap off.
"It was a pathetic attempt. That's our one and only fight. We go into the nitty gritty (in the book), but there haven't been so many of those."