Meet the busiest man in hip hop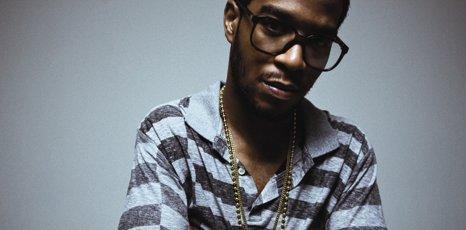 One look at Kid Cudi's album artwork is all you need to understand the size of the Cleveland-born rapper's ambition.
It's the moon with Cudi's - real name Scott Mescudi - face emblazoned on the side.
Right now, he's involved in a multitude of projects: The release of his debut album Man On The Moon: The End Of Day, working on its follow-up, devising a "compilation" where he ropes in his favourite artists to feature, appearing on Jay-Z's Blueprint 3 and starring in a new HBO series in the US.
No wonder then that, sat on a sofa arm of a couch in west London he frequently, between speaking at 100mph, yawns like a lion.
Many projects
But one at a time.
First off, Cudi's own "cinematic" debut album receives its official airing this month.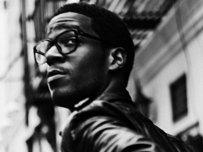 Split into five separate "acts", we'll allow him to explain: "The first song is immediately supposed to put you in a dream-like state. That's the opening credits.
"So you get the Star Wars out of space background coming up with the words coming up. I pictured this all in my brain of how I wanted it to flow."
It is one of the most ambitious and unconventional rap albums of recent times, narated by rapper Common and backed up by a full orchestra.
It's produced, in part, by Kanye West whom Kid Cudi is great friends with [he in turn worked on much of West's last album 808s & Heartbreak].
"Me and [Kanye] have similar creativity and similar personality," he says. "We'll crack jokes all day then at the same time we'll create songs all day. He's just a great person to be around. He's got a positive energy."
Moving forward
Like his hero West, Cudi's already working on the next project, forever one step of himself.
"Man On The Moon is a trilogy, I'm already brainstorming the second album. I haven't started recording yet but the second album will be Man On The Moon: The Ghost And The Machine."
Cudi, today modelling a cap and a pair of over-sized spectacles has no inhibitions, no constraints and, seemingly, sees no obstacles.
"I'm working on a compilation album next," he explains. "That's pretty much going to be me working with artists that I admire as a fan.
It's called How To Make It In America; it's executively produced by Mark Wahlberg which means everyone who was involved with Entourage is involved with this
Kid Cudi on his upcoming acting plans
"I'm going to reach out to Green Day, Red Hot Chili Peppers hopefully, Band Of Horses. Of course, Ratatat and MGMT [who guest on his new single Pursuit Of Happiness] again."
In fact, Ben Bridwell, lead singer of Seattle rock band Band Of Horses, whom Cudi remixed early on, has been an unlikely inspiration.
"He inspired me to move in a more down to earth and honest light with me as a celebrity," says Cudi fondly.
"We've already planned a trip where I go down to North Carolina and spend some time with him and his wife and just create and see what we come up with."
Whilst nothing is concrete, you can imagine the rapper will make these unlikely collaborations happen.
'Time capsule'
Of course the fact the spotlight has swung onto Cudi is namely down to one song: Day 'N' Nite, recorded in 2007 that went top three in the US and the UK.
"That song is like a time capsule, those vocals were recorded in a booth in a closet and I never really re-did the vocals. That voice that you hear I was really grinding. At the time I had nothing.
"Every time I hear those vocals I reminisce to that moment in time."
But for the moment Kid Cudi returns to home [New York] to make his major acting debut in a new HBO series.
"It's called How To Make It In America; it's executively produced by Mark Wahlberg which means everyone who was involved with Entourage is involved with this.
"It's also starring Brian Greenberg [One Tree Hill], Eddy Kaye Thomas [American Pie] - it's just a great cast.
"I have a lead role and my character is very cool."
With that, Cudi's off to fulfil another engagement.
"My brain processes like a million ideas a minute," he says before bouncing out. "I'll probably have a whole slew of new things by tomorrow."
No kidding.