Marines train for roadside bombs
As it's revealed a British soldier has been killed in Afghanistan by an Improvised Explosive Device (IED), US troops are learning how to detect roadside bombs by doing special training.
An explosion shatters the still morning air of North Carolina. The US Marines are shouting commands and reacting to a bomb attack.
It's a long way from Taliban country but it won't be long before these troops head to Afghanistan and Newsbeat has been given access to see their preparation against the greatest threat they'll face.
IEDs - or Improvised Explosive Devices - are often planted near roads which is why they're often referred to as roadside bombs.
US Marines have a military base in Jacksonville. Camp Lejeune was set up in 1941 and is surrounded by forests and miles of sandy beaches, which are used for training purposes.
IED identification training is one of the routine sessions Marines have to undergo before their deployment to Afghanistan.
It involves going on a vehicle patrol in the woods at Camp Lejeune where instructors have planted fake bombs.
Their mission is to spot them and then react in the correct way.
'Watch everything'
Retired Master Sergeant Norman Baven, who's leading the session, is an expert in spotting the lethal devices.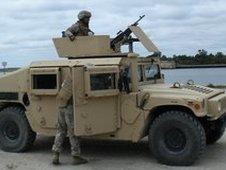 He said: "IEDs consist of anything as small as a cigarette pack to anything as large as a garbage truck.
"Everything in your area of observation or operation you know you've got to consider or take into consideration."
The Marines from Bravo Company, 2nd Amphibian Assault Battalion, get into their Humvees and begin the patrol.
The top gunner is keeping a look out for anything out of the ordinary. He sees an oddly shaped branch in one of the trees and tells the driver to stop.
The troops dismount from the vehicle to make sure it's not a bomb. This time they're lucky - no explosion.
Charles Tucker, one of the instructors, said: "The insurgents know what they're doing.
"They'll try and catch vehicles on road bends with curves because you can't see - it's like a blind curve, and that's what we try and instruct the Marines to be especially watchful of."
They'll try and catch vehicles on road bends with curves because you can't see
Chris Tucker, US Marine instructor
The patrol continues, winding its way through the dusty, narrow road.
We were asked not to report any more details on how the Marines react to the threat of an IED because it could be useful to the Taliban.
IEDs are homemade bombs which are usually triggered by remote controls and pressure plates.
More than 300 foreign soldiers have died in Afghanistan this year and most of them have been killed by IEDs.
Reports in the States claim these kind of attacks are expected to increase in the next six months, so this training is essential to cut deaths and casualties.
But 21-year-old Corporal Shawker isn't scared. He's off to Afghanistan next month and is leaving behind his pregnant wife.
He said: "All these Marines have got good training. I trust every one of them to watch my back.
"People are dying driving down the streets. People die, it's part of life. If it's your time, it's your time."