Security 'tight' on Twilight set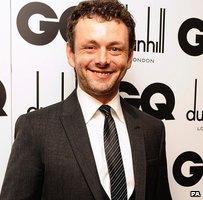 Michael Sheen says security was so tight on The Twilight Saga: New Moon that people couldn't even take photos on set.
The actor, who plays Aro in the film, told Newsbeat there was somebody who was given the task of preventing leaks.
He said: "I remember someone whose job was containment and I thought: 'What does that actually mean? Does that mean stopping people from getting on the set?'
"And it wasn't, it was to stop people on the set taking pictures and sending them out."
Sheen, star of Frost/Nixon and The Queen, revealed that Twilight fans were actually pretty well behaved during filming.
'Bit mental'
"There's a lot of security but there was nobody hanging around the set or anything like that," he said.
"I think all the Twilight fans are very well behaved on the whole, they let them do the work and then when they're out and about they go a bit mental."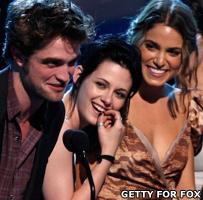 For Sheen though, the big bonus has to be the brownie points he's scored with his daughter.
He said: "The best thing about it is I'm now a poster on my own daughter's wall, which is about the best thing that could ever possibly happen.
"When they first asked me if I wanted to do it, I hadn't read the books or anything, so I had to ask my daughter what the character was like without tipping her off… because I didn't want to get her all excited if I didn't end up doing it.
"She said she thought Aro, my character, was bald but he's got long black hair so I hope I haven't ruined it for her by not being bald. She cried when I told her.
"No matter what happens I have to be at the premiere in LA. That's the whole reason she wanted me to do it, so she could go to the premiere."
Sheen was talking at the GQ Men of the Year Awards at the Royal Opera House in London's Covent Garden, where he scooped actor of the year.
The Twilight Saga: New Moon, is the second instalment in the vampire saga and it's released in the UK on 20 November 2009.
Filming has already begun on the third movie in the series, Eclipse.