Leona Lewis debuts new single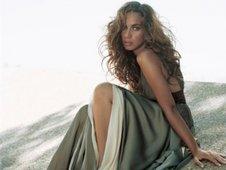 Former X Factor winner Leona Lewis has played her new single Happy for the first time on Radio 1's Chart Show.
The song is the first track off second album, Echo, and is the follow-up to her debut, Spirit, the fastest selling debut album of all time in the UK.
Speaking to Fearne Cotton and Reggie Yates from Los Angeles, Leona Lewis said she was happy but nervous about Smile's release.
"It's such a big deal," she said. "I've lived with this song for so long now and it's just been mine. Now I'm sharing it with everyone. It's very nerve-racking."
Leona Lewis has worked with Ryan Tedder again on Echo, the man who co-wrote and produced her biggest-selling single to date, Bleeding Love.
She says she also got to work with one of her idols on the album.
"I worked with Justin Timberlake on it." she said. "That was really cool. At first I was getting over the shock that I was actually going to be in the studio with Justin Timberlake.
"So I had to cool myself down a bit. But he's just such a cool guy. He's so talented.
"I didn't really know how he worked in the studio, I just knew him from being an artist. As a producer, he's just so talented, so it was a cool experience."
During her interview on the Chart Show, Leona Lewis also revealed that she hadn't had a chance to see much of the X Factor this year but said the audience being in the auditions must be really scary.
She said: "Maybe it's better, because they do it with a backing track. When I went in there it was just me, really close to the judges. There was no track, just voice. It was so different."
And the singer, now 24, insists she doesn't have any rivalry with last year's X Factor winner, Alexandra Burke.
She said: "I think we're very different. I'm looking forward to hearing what she's going to do, for sure. There's no competition."
Leona Lewis' new album Echo is released on 17 November