Muse hail 'odd' hometown gigs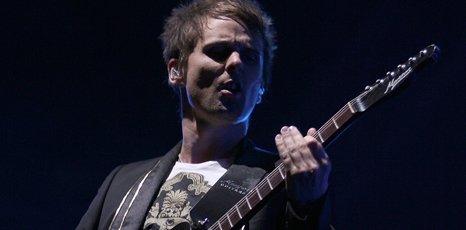 Muse have hailed their hometown gigs in Teignmouth, Devon this past weekend [4 and 5 September] as "bizarre".
Bassist Chris Wolstenholme also admitted the experience had been "the oddest thing I've ever done in my life".
The band played to 14,000 fans across two nights on a stage specially erected on seaside plaza The Den.
They used the opportunity to debut new material from their forthcoming fifth album The Resistance, released on 14 September.
Showbiz anniversary
The gigs were organised to commemorate the 10th anniversary of the release of the band's debut album Showbiz and celebrate the release of their first new material since 2006's Black Holes And Revelations.
"It has been something we've talked about for a long time," said bassist Chris Wolstenholme, speaking after the first night of the two-night stand.
"The idea just came up when we were finishing the album. It felt like the right time to do this.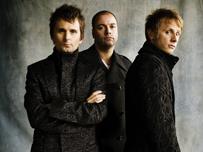 "It is bizarre, it really is weird, I think the strangest thing was coming off stage getting in a car and five minutes after walking through my front door.
"I was walking around my kitchen last night thinking, 'This is very weird, what do I do now?' I was walking around my kitchen thinking 'This is the oddest thing I've ever done in my life'."
'Stripped back'
The trio, who formed in the Devon town in 1994, were last seen playing live at 2008's V Festival but they toned down their usual spectacular stage show for the comparatively small gigs.
"We wanted to keep it a bit stripped back because we wanted to make sure there was a little bit of profit to give back to a local charity. We scaled back - there's no pyrotechnics this time," explained Wolstenholme.
He did admit though that being at home meant the band's nervousness was heightened.
I was walking around me kitchen thinking this is the oddest thing I've ever done in my life
Muse's Chris Wolstenholme on the band's hometown gigs
"Part of it felt like a normal gig but then you look up and you see the pier, there's like a little amusement arcade on there and places I went as a kid. It's really strange seeing all these familiar landmarks."
Wolstenholme is the only member of the band who still lives locally.
Highlights of Saturday's gig can be heard on Radio 1 tonight [7 September] from 7pm.