Friendly Fires go back home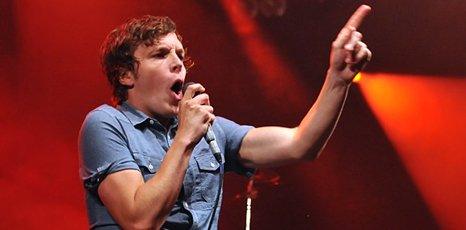 Today [3 September] Friendly Fires will walk the streets of their hometown of St Albans, Hertfordshire for the first time in a long time.
Arguably, no band has worked harder over the past two years than the smartly-attired threesome. Solid back-to-back touring has seen them graft their way to success.
"It will be odd seeing so many faces you actually recognise in a crowd," says guitarist Ed Gibson of the show back on home-turf. "That'll make me more nervous than usual to be honest."
They play the city's Alban Arena - a venue rarely visited by touring rock bands and usually reserved for pantomime.
Unusual venue
"I saw Sootie, Paul Merton and The Lion, The Witch And The Wardrobe there," laughs Gibson.
"The Chuckle Brothers used to have a residency there as well," adds drummer Jack Savidge. "Fun Lovin' Criminals played there once."
The gig signposts the beginning of a gradual wind-down for the band, the end of a summer which has seen them visit Europe, Japan, Australia, America and South America in the space of a short few months.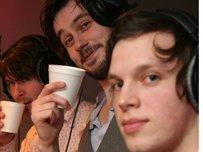 "We went to South America which was just incredible," says Savidge. "We did two shows in Brazil and then one in Argentina, then one in Mexico where we appear to be huge. Which was pretty amazing - proper Bono-style adoration."
It was all much to the bafflement of lead singer Ed MacFarlane.
"We had people taking pictures of our van and stuff like that which was weird," he says. "It was just like blacked out windows and there were still people taking photos of us."
They departed with tales of obsessive fans and men with "ear pieces and suits".
Mercury nomination
With scattered shows penciled throughout the autumn - the event which could significantly reshuffle their schedule for the rest of the year is this year's Mercury Music Prize, the winner of which is announced next week [8 September].
You've got to hope for the best and expect the worst - it's the Russian proverb
Ed Gibson, Friendly Fires on their chances of winning the Mercury Music Prize
MacFarlane and co are nominated for the annual award for their 2008 self-titled debut alongside others like Kasabian, La Roux and Bat For Lashes.
"I'm quite excited. I'm looking forward to having a nice meal because I haven't had a nice meal in ages - it'll be good to have a proper cooked meal," says MacFarlane playing down their chances of victory.
"I don't know," says Gibson more seriously. "You've got to hope for the best and expect the worst - it's the Russian proverb."
All of which means they haven't had a chance to think about the next step and new material.
"No, not at all to be honest," asserts the guitarist. "We wrote Kiss Of Life [their current single], but that has been in the pipeline since January - we started it then and only finished it about a month ago.
"That just shows you how impossible it'd be to write an album whilst touring continuously….soon we'll be able to stop and think about it properly and exist in the garage and the studio again and see what happens."