Gordon Brown 'would take pay cut'
Prime Minister Gordon Brown has told a group of young people that he would consider taking a pay cut because of the recession but wouldn't be drawn on how much he'd be willing to give up.
The PM also called for bankers' bonuses to be more tightly controlled and said they should only be rewarded if they were of long-term value to the company.
He said: "Today we're publishing proposals so that the bonuses of bankers are brought under better control.
"Some people get bonuses for not really doing anything that is of long-term value. It's got to be of long-term value.
"Some people are getting bonuses even if the bank isn't doing well and some people are getting bonuses that are such a high share of the company's turnover that it's a risk for other people who are using that bank."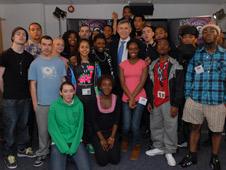 On the subject of a taking a pay cut, the Prime Minister said he'd be willing to work for less money but that higher earners also needed to pay their share of tax.
"I'd be prepared to take a pay cut," he said. "But I think the issue on taxation is that those people that earn a lot more money should be asked to contribute more to help us get through this recession.
"That's why we've raised the top rate of tax for people who are on higher salaries and that is to help us pay for the job creation that we're doing at the moment."
Have Your Say: How did you rate Gordon Brown's performance?
Hosted by Tina Daheley, the PM was answering questions from 21 young people who are not in full-time education, employment or training.
1Xtra and BBC Blast's "U Takeover" project takes place on Saturday 26 September.