Jay-Z to play on Live Lounge tour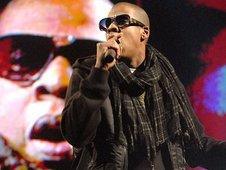 Jay-Z and Coldplay have been revealed as two of the big names on Radio 1's Live Lounge tour.
The other acts lined up are Kasabian, JLS, Biffy Clyro and Dizzee Rascal.
The exclusive week of gigs begins on Monday 14 September and ends with hip hop superstar Jay-Z playing live in Jo Whiley's lounge on 18 September.
On the same day, there will be action from Coldplay's gig in Hampden Park in Scotland and an exclusive interview and cover version.
The annual tour sees bands performing from their own homes and in the past has featured the likes of Lily Allen, Noel Gallagher and Girls Aloud.
The full line up:
Monday 14 September - Jo will be at Serge from Kasabian's house in Leicester.
Tuesday 15 September - Aston and Marvin from JLS are inviting Jo to their flat in London.
Wednesday 16 September - Biffy Clyro let Jo come to their house in Ayrshire.
Thursday 17 September - Jo will be at Dizzee Rascal's studio in London.
Friday 18 September - Jo ends the week with Coldplay and Jay-Z.