Singer 'protective' of new family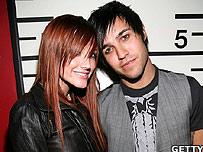 Fall Out Boy singer Pete Wentz claims he and wife Ashlee Simpson are moving out of Los Angeles because they are fed up with the paparazzi.
The celebrity couple say they're followed everywhere they go when they step out.
Pete Wentz and Ashlee Simpson were married last year and had a baby boy called Bronx Mowgli Wentz in November.
They say they're more protective now they've had a child.
"Once you have a kid it's a little bit different," he said. "You're more protective. You want them to have a normal life, or as normal as possible.
"We're going to figure out moving somewhere that's a little less [public]. But we still gotta be close enough where we can work."
Wentz and Simpson started dating in late 2006 and got engaged in April 2008.
The couple were married in a private ceremony a month later.
Wentz says the paparazzi follow them around.
He said: "There'll be too many of them and you'll get mobbed. You're just trying to protect your wife or your kid. It's just frustrating."