Complaints about 'naked' NYC hotel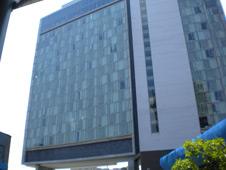 Some are describing it as a skyscraper peep show. At The Standard Hotel in downtown Manhattan guests are doing a lot more than just sightseeing.
Every day, crowds gather in the newly built Highline park which sits underneath the hotel. Many eagerly wait to catch a glimpse of the naked people in the gigantic floor to ceiling windows.
According to reports and witnesses, men and women have been posing nude for passers-by to see.
Whether it's wiping their bodies after a shower, or changing their clothes, the views have been drawing huge amounts of attention.
A man in his 20s was sat on a bench enjoying a sandwich. He said: "If I were to see it, I would stop, observe, and enjoy the show. It's natural.
"If people were hurting each other and killing each other, that would be horrific, but this is normal and great."
Park view
But it's not only about being nude. Apparently, there's been some hot couple action too.
The word is it happens at night when there aren't many people in the park.
The hotel will make a concerted effort to remind guests of the transparency of the guest room windows
Statement from The Standard Hotel in New York
When we were there, the most exciting view was a cleaner with her duster.
The Standard issued a statement which says: "The hotel has always been sensitive to the concerns of its friends and neighbours.
"In light of recent comments about the conduct of guests in the privacy of their rooms, the hotel will make a concerted effort to remind guests of the transparency of the guest room windows."
The New York Police Department say nobody has been arrested at the hotel over this but it is illegal. They call it lewd behaviour in America.
It can involve being naked and performing sexual acts in front of others.
If someone is found guilty of lewdness, they could be sentenced to up to 90 days in jail. However, each case is judged on its own merit.
For those New Yorkers with kids though, it's all a bit too much. Many are so offended they no longer want to walk in the park.
Susan Hearn is a teacher and has a young daughter. She said: "This can't be the first time in a city like this that this has happened but I think my daughter, Madison, would rather not see things like that."