'One in five' young drivers uninsured
Hundreds of thousands of young motorists are driving on the roads illegally because they do not have any insurance.
New figures seen exclusively by Newsbeat show more than one in five 17 to 20-year-olds is not covered.
According to the Motor Insurers' Bureau, which represents insurance companies, that means there are 243,000 illegal young drivers.
That is compared with one in every 20 cars nationally.
Two years ago 21-year-old Gary Street was hit by an uninsured driver doing 30mph (48km/h).
Young drivers statistically are a bad risk, they are. They are many times more likely to have an accident
Ashton West, Chief Executive of the Motor Insurers' Bureau
"I was travelling through Manchester city centre on my way to work when a car hit me from behind as I was stationary," he said.
"I was sent off into the other side of the road, the airbags went off, the seat belts imploded. The car was in quite a state to be honest."
The crash left Gary with neck and back injuries, in quite a lot of pain and he was out of action for over a month.
But because the other driver had no insurance Gary was hit hard in the pocket too.
He said: "I had no other option but to claim on my own insurance which came to a cost of £900 excess.
"I lost my no claims bonus and obviously it's costing me more now to insure my car."
Police use ANPR (automatic number plate recognition) cameras to scan hundreds of cars every few minutes when officers are out on patrol.
Power to arrest
They can check if a car has a current MoT certificate, a valid tax disc and if the driver is insured or not.
Chief Inspector Richard Joyce from Surrey police recently carried out a joint operation with officers from Kent and Sussex on the M25 in Surrey.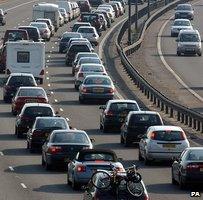 He said: "We have the power to stop, question, and in some cases, arrest drivers without insurance.
"The consequences for them can be anything from a fine, to points on their licence to having their car scrapped."
Sam, 22, from Kent got caught driving his 1.2 litre hatchback without insurance when he was 18.
He said: "I was driving without insurance because basically I couldn't afford it, the cost was too high.
"I knew I should have had it but I also knew I was a good driver and I was safe."
Driver risk
But Ashton West, chief executive of the Motor Insurers' Bureau which represents the insurance industry, disagrees.
He says the cost of covering young drivers is not just down to what type of car they drive - it's normally down to the risk the driver poses on the roads.
He said: "Young drivers statistically are a bad risk, they are. They are many times more likely to have an accident."
With so many young drivers on the roads illegally without cover, insurance companies, the police and motorists all say something needs to be done to tackle the problem.
Gary thinks he has the answer: "If insurance wasn't so expensive for young drivers, it would encourage people to actually have the insurance.
"Then if you didn't have the insurance I think the consequences of the law should be a lot tougher."