N-Dubz: 'Young obsessed by image'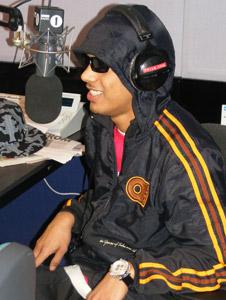 Successful young men are spending too much on themselves and not giving enough money back to their parents.
That's according to Fazer from N-Dubz, who says since they've made it big he's made sure everyone around him isn't short of cash.
Speaking backstage at this weekend's V Festival in Chelmsford, Fazer told Newsbeat: "I see certain men go out, they buy a chain for two grand, three grand, and their mum's still asking the next door neighbour for sugar. Make sure mumsy's blessed first.
"My mumsy used to cry when she couldn't buy me trainers. But now I can slap two grand in my mumsy's hand and she can go and buy some sugar."
Fazer says he likes to look after his family now and others should do the same.
"If you know your mum's struggling, look after your mumsy as well as yourself.
"And if you get money, save money because you need money to make money. Don't just spend it on cars."
Peer pressure
N-Dubz had to perform as a duo in the Arena at the V Festival because Tulisa was too sick to go on stage.
Dizzee Rascal was also performing over the weekend in Essex and Staffordshire. He backed up what Fazer from N-Dubz was saying about looking after your family if you become successful.
He says there's always pressure for the young to try to keep up with what other people are wearing and buying.
Speaking backstage at V Festival, he said: "When you do well and you get older you realise what's actually been done for you as a kid. It's good to give back.
"You just realise how much your parents do for you when you're younger.
"You get a bit sentimental about it and it is good to give to your parents. That was one of the first things I did."