New Twilight movie begins filming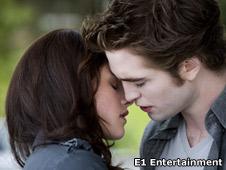 The third movie in the teen vampire saga, Twilight, has started filming on location in Vancouver BC, Canada.
Eclipse is the follow-up to New Moon and continues the story of schoolgirl Bella Swan (Kristen Stewart) and Edward Cullen (Brit actor Robert Pattinson).
Taylor Lautner also returns as Jacob Black but Rachelle Lefevre has been replaced as vampire Victoria by Spider-Man 3 actress Bryce Dallas Howard.
30 Days Of Night director David Slade is making the third film.
The movies are based on the bestselling books written by Stephenie Meyer with Eclipse due for release in the UK on 9 July 2010.
The second in the saga, New Moon, is out in cinemas on 27 November.
The original Twilight movie made more than $380m (£230m) worldwide.