NHS staff defend sickness levels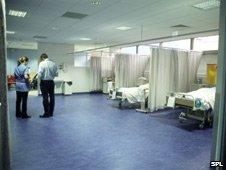 Too many NHS staff are calling in sick - about 45,000 every day in England. That's according to new research carried out for the government.
Nearly all health workers also reckon that the care they give patients is getting worse as a result.
The report's expected to say bosses need to look after their workers better to stop small health problems getting out of control.
That could mean NHS staff being given more help - like physiotherapy and counselling - and getting it a lot earlier.
Experts think it could help wipe 15,000 absences from the daily sick list.
NHS workers average 10.7 days sick leave every year, compared with the 6.4 days of employees who aren't employed by the government.
Stress, aches and pains and mental health difficulties were the biggest reasons for staying at home.
Researchers also reckon that high levels of obesity and smoking among health workers aren't helping.
'Cannot risk patients'
Newsbeat listeners - including many who work for the NHS - have been texting in with strong views on the story.
The majority have defended the number of sick days that staff take and point out they have to be extra careful not to pass on their illness to patients.
They also say that because they work with ill people it's obvious NHS staff will be off work more.
At least half of the days I've been off sick were for infection control reasons
Debbie from Cambridgeshire says: "At least half of the days I've been off sick were for infection control reasons. We cannot risk exposing patients to contagious diseases like norovirus or swine flu."
Neil from Yorkshire agrees: "If you have a slight cold or virus you could struggle through in the private sector, but because of infection you cannot risk giving patients your sickness."
Michelle, a nurse from Hampshire, also thinks NHS staff are more likely to get sick.
"When you work with ill patients you pick up bugs more often than working in an office.
"The statistics seem a bit vague and just another dig at us people who work for peanuts in the NHS."
However, they have also been texts disagreeing.
One says: "My dad works for the NHS and he is always working nights because people pull sickies - one man because his fingers hurt from taking lids off beer bottles."