Skunk Anansie: 'We're a new band'
The reformed political rockers return from the wilderness with new songs and a new 'vibe' - all because of the bass player's dog.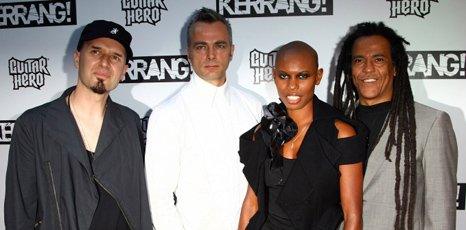 Festival fans, here's a question for you. Who was the last band to headline Glastonbury in the last millennium?
Not Manic Street Preachers, not David Bowie, not Chemical Brothers (they were the first of the new).
Well, the clue is in the picture above: Skunk Anansie.
A surprise choice and the crest of their career, the foursome - formed in 1994 - stormed Pilton's Pyramid Stage and earned themselves a whole lot of new fans in the process.
Extended break
Two years later, following the release of three albums and having taken a little known band called Muse out on tour with them, they parted company.
"My Dog," laughs bass player Cass when asked about whose idea it was to come back together. "He kept telling me and I had to persuade these people that I wasn't mad."
In fact, it was they say fan pressure that led them back into each other's lives.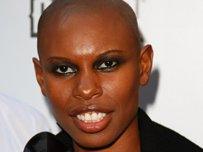 "They've been on our case for years for us to do this," says lead singer Skin.
"The whole thing has been led by MySpace and the revolution of our fans," adds guitarist Ace.
Brand new songs
It won't be a brief lap of honour though. Alongside an "obligated" Greatest Hits titled Smashes And Trashes, the band have written a bunch of new songs in their dingy rehearsal space.
"The classic dirty little room with a black mushroom growing in the corner of it," laughs guitarist Ace. "[We] had a bunch of rubbish for a little time and then it just came together like it always does."
"There's just a different kind of energy," explains Skin of the sound. "There's not like a rehash of what we did in the 90s - they're more fierce.
"We're not trying to copy what we were doing before. We're seeing it as a new band."
Projects halted
First taster comes in the form of new single Because Of You, which alongside previous hits like Weak and Charity, they'll play this autumn on a sold out UK tour.
What the reunion does mean is that all other plans are shelved including Skin's solo career ("I've got an electronic project that's just going to have to wait"), Ace's guitar tutoring and Mark Richardson's stint drumming with Brit band Feeder.
I'd kind of forgot how much of a big thing Skunk Anansie was. To make sure we do it well we have to dedicate a few years to it
"We're back in sync with all our lives, we were out of sync for nine years…" ponders Skin.
"I'd kind of forgotten how much of a big thing Skunk Anansie was. To make sure we do it well we have to dedicate a few years to it. I don't think it's an easy decision."
Following the likes of Faith No More and most recently Blur, any reluctance about people thinking this is a money-motivated decision?
"Yeah I think so, honestly," says Skin. "We thought a lot about why we were doing it, what we wanted to do and how we were going to do it.
"We didn't want to just come back and be nostalgic and play a bunch of old songs."
Smashes And Trashes is released on 14 September