Bands steal the show at Boardmasters
On Friday the sun shone over surfers, skaters and BMX riders at Fistral beach in Newquay.
And as thousands of festival-goers made their way over to the Relentless Boardmasters music site a few miles away, Mike Skinner was having the afternoon off.
He turned down all interview requests, and went off for a wander into Newquay.
When he came on to the main stage in front of thousands of young fans he looked much the better for it.
Does anyone listen to UK hip hop? Well you shouldn't, it's rubbish
Dan Le Sac and Scroobius Pip to the crowd at Boardmsters
He asked the crowd: "You know what I've done today? Had two pasties, a milkshake and a haircut."
In between old classics like Don't Mug Yourself and his latest offerings like Everything Is Borrowed, he seemed genuinely emotional.
"Who saw the sunset? It's so beautiful to be here man. Enough to make you cry."
And before Dry Your Eyes, he added: "This means so much to me. I used to come here on holiday as a kid.
"Had my heart broken lots. This is for any of you who've had yours broken too."
'I like girls'
Earlier in the afternoon teenage rapper Master Shortie got the tempo going with his performance.
He whipped the crowd up with tracks including Dance Like A White Boy and Prince Charming.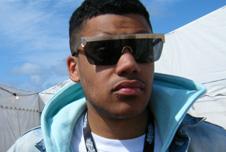 The mainly teenage crowd lapped it up as he yelled: "Make some noise if you were born in the 90s!"
Backstage he told Newsbeat how he copes with all the attention from female fans.
He said: "There's going to be beautiful ladies out there in bikinis, but on stage I use that to my advantage.
"A lot of my songs are about girls and life experiences so I just feed off the energy of females.
"Females give me confidence in a way. Basically I like girls."
Calvin Harris and Radio 1's Kissy Sell Out both did the business too on Friday, while on Saturday the standout performances came from some of the underdogs.
Dan Le Sac and Scroobius Pip took the main stage by storm in the afternoon and were by far and away the funniest act of the weekend.
In between Thou Shalt Not Kill and Letter From God, the bearded rapper struck up a great rapport with the crowd, asking them to warn him not to have more than one drink because he was driving home.
And before performing Hip Hop Is Ours, he had the crowd in stitches as he said: "Does anyone listen to UK hip hop? Well you shouldn't, it's rubbish.
"Some acts are good, the rest are all N-Dubz."
Cypress Hill drew a big crowd as they headlined on Saturday, but were fairly predictable.
In the Relentless tent though, Filthy Dukes played a storming set, while MC Jakes from Pendulum finished the festival in style with a slamming drum and bass DJ set.
Tim from the Filthy Dukes summed up the weekend as he walked off stage dripping in sweat: "You were a great crowd. Without you we'd just be four blokes making some music.
"It's all about you."