Boom in 'new and improved' 3D cinemas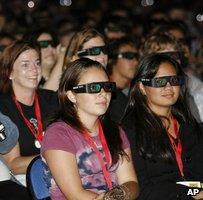 It used to be all about rubbish glasses made from cardboard, dodgy films and even worse actors. But 3D is back and, according to the film industry, is massively new and improved.
According to the UK Film Council, there's been an explosion in the number of 3D screens across Britain.
Last year there were less than 70, now there are almost 400 which means an average of 10 new ones opening every week.
There are also a lot more 3D films on offer.
Six were released in 2008, this year it's more than double and with even more planned for 2010.
Lauren, who is 11-years-old and from London, went to see the latest 3D film, Disney's G-Force, last night.
She said: "In a normal film it doesn't make you feel like you're in the film. It just makes you feel like you're watching it.
"But when you're in a 3D movie it feels like you're in it instead of just watching it."
Cost
3D films do cost an extra £2/2.50 on top of the normal ticket price to go and see.
But Lauren's dad Daniel reckons it's definitely worth it.
He said: "It makes you feel like you're in the film, like you're with them running around.
"There were a total of eight of us who went to see the film and it was definitely worth the extra money we paid to go and see it."
When you're in a 3D movie it feels like you're in it instead of just watching it
Daniel, film fan from London
But not everyone was convinced.
Cheryl took her 13-year-old son to see the movie. She said: "I think it's a waste of money, ridiculous.
"You can see it better when you pay the normal price and watch a regular version instead".
Film industry bosses disagree. They reckon people get a much better experience compared to a normal trip to the cinema and that the extra money is worth it.
Leora Nevezie works for the UK Film Council. She said: "Yes it does cost more to see a 3D film.
"But that's because they cost more to make, cinemas have to pay tens of thousands of pounds to upgrade screens to be able to show them and then there's the cost of things like special 3D glasses."
As for why there's such a growth in 3D cinema right now Leora says there are three main reasons.
'Proper glasses'
"Firstly the technology to install 3D screens and to film in 3D is a lot cheaper than just a couple of years ago.
"Secondly there's been a big creative push from Hollywood studios and big name directors have got involved so there are a lot of 3D films out there.
"Finally it's much better for the viewer than in the past.
"We've got proper glasses, there's no motion sickness and no headaches like there used to be."
Big name directors have got involved so there are a lot of 3D films out there.
Leora Nevezie, UK Film Council
The film industry has invested millions of pounds to try and make 3D a success this time and a big test will come in December.
James Cameron, the man behind films like Titanic and Terminator 2 is releasing a 3D film he's been working on for more than 10 years.
One top industry executive describes it as a "game changer" - a movie that could change the way people watch films forever.
"I've had people watch 20 or 30 minutes of Avatar and say it's like being in a dream like state.
"Most people have said something like that, that it creates a slightly altered sense of awareness."
But the film industry will have to wait and see if it lives up to the hype and, more importantly, if people are willing to pay the extra money it costs to watch 3D films.