New Muse album 'inspired' by 1984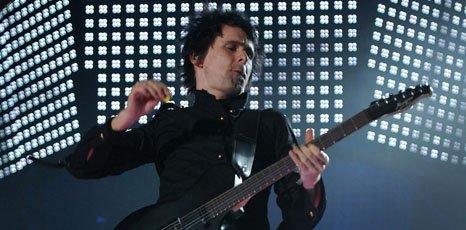 Muse have cited George Orwell's book 1984 as a major influence on the lyrics of the band's forthcoming fifth album.
Lead singer Matt Bellamy said he re-read the book shortly before writing the group's new material.
The Resistance, recorded at Bellamy's "war-bunker" studio, on the shore of Lake Como, Italy, is released on 14 September.
Speaking to Radio 1's Zane Lowe, he said: "When I read it this time I was much more taken with the love story."
Album specifics
Talking before the first radio play of new single Uprising Bellamy said: "I read once in school about 15 years ago it was all about the politics.
"But when I read it this time I was much more taken with the love story in the book between Juliette and Winston."
The singer and guitarist added: "In the early years I was confused about what my emotions were trying to express.
"As I said, being in England or seeing what's going on in England has defined it as being a lot more direct and a lot more down to earth.
"I think the first song [Uprising] sums up how a lot of people feel and it's that we need change."
He also told Zane Lowe that the Teignmouth band didn't write any other songs apart from those appearing on the LP.
"It's as lean as could be, we wrote 11 tracks and that's it."
In 2007 Muse played two sold out nights at London's Wembley Stadium and previously announced a six-date UK tour this autumn.