Backstage at the Kerrang! Awards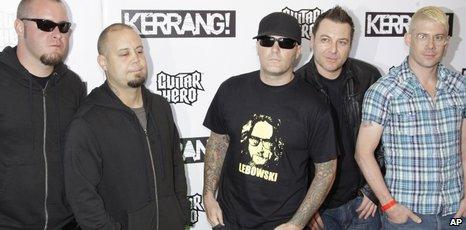 The clue is in the beer truck briefly parked outside - the Kerrang! Awards have long had a reputation for bringing the good, the bad and the ugly of the world of rock and metal together in one highly 'lubricated' environment.
Held at London's The Brewery, apt considering the amount of alcohol stocking the awards' tables, many masters of the riff are in attendence.
Not just picking up the hall of fame award inside, newly reformed rockers Limp Bizkit pick up biggest media scrum outside on the red carpet.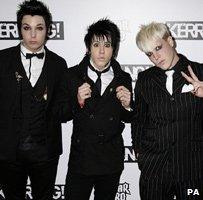 Microphones, people and security go flying as Fred Durst, wearing shades [naturally] mutters a few inaudible words about their new album "sounding like Neil Diamond" whilst holding hands with his wife whilst his band mates stand cross-armed.
He's not the only joker though – three quarters of St Albans' Enter Shikari have told the remaining quarter [Drummer Rob] that tonight was a posh dress code. He's wearing a suit.
"We played a prank on him – he fell for it…" they laugh.
London's My Passion are equally smart, looking like an iron-pressed My Chemical Romance waltzing down the red carpet.
Patchwork suit
That's nothing compared to Corey Taylor [Slipknot] choice of garments though, who's presenting the awards with Anthrax's Scott Ian.
Ordinarily dressed in a melted face mask and boiler suit this evening he's come dressed in a multi-coloured patchwork suit complete with sandals and painted toe nails.
I was shaking up there... but at least I get to lie in tomorrow
Corey Taylor from Slipknot
"My suit is nuclear and I'm not afraid to say I love it," he boasts later.
The King Blues are slightly less vocal as lead singer Itch has lost his voice but at least he has his band mates to chat to.
Two characters attending in lonely fashion are Linkin Park's Chester Bennington – who stops off to say how much he's looking forward to Jay-Z's new album – and Metallica's Robert Trujillo. Both come without their bands.
Better than Wolfmother though, who don't come at all.
Foam balls
Freshly back together, 1990s rockers Skunk Anansie make their first public appearance together with lead songstress Skin explaining how she had a giant squid for her birthday.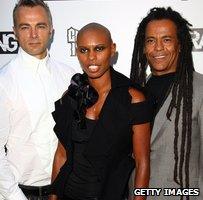 And whose idea was it to give a room full of rockers foam balls? Every band who arrive onstage to pick up their K! shaped gongs get showered.
Especially Limp Bizkit's Wes Borland, who manfully acts as a human shield.
"Keith Flint, I didn't even know you were going to be here, let's have a drink later," he yelps from the stage.
Despite the fact that the awards last just over an hour, the winner's room is soon filled with bands that are slightly 'looser' than before.
The Prodigy show off their award for best single [for Omen] by attaching a Barbie Doll to it and mouthing off about how much they love Arctic Monkeys, whilst Corey Taylor, clasping two awards of his own, looks visibly relieved.
"I was shaking up there," he says before heading to the after party, "but at least I get to lie in tomorrow."
It seems even thrash metal gods need their beauty sleep.