Lavigne plans on toning it down
Avril Lavigne has revealed she's planning on showing her softer side with more acoustic tracks on her next album.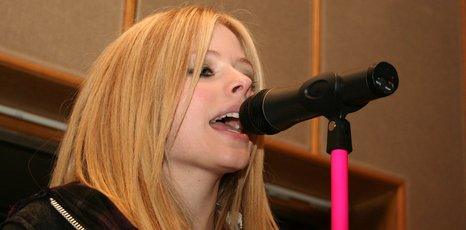 Her fourth studio album, which is provisionally due for release in November, has yet to be named.
She told Billboard.com: "A lot of the songs are mainly the acoustic and my vocal.
"It's a lot different from anything I've done before. It's not a pop rock record. This is more about emotion and feeling."
The 25-year-old says she penned half the songs herself and is keeping it in the family.
Family affair
The Canadian singer, whose hits include Complicated and Girlfriend, has enlisted husband and Sum 41 frontman Deryck Whibley to produce eight of the tracks on the album.
Ex bandmate Evan Taubenfield and songwriter/producer Butch Walker have also contributed.
She added: "I started this record off really slow, just writing songs at home on my piano. I didn't work with a ton of people this time."
Her last album, The Best Damn Thing, was released in 2007.
Her 2008 concert in Malaysia was allowed to go ahead after the government initially cancelled it over fears it was "too sexy".