Aussie WAG row threatens Ashes
<b>The mother of Aussie bowler Mitchell Johnson says she isn't to blame for his poor form in the Ashes after making negative comments about his WAG fiancee. </b>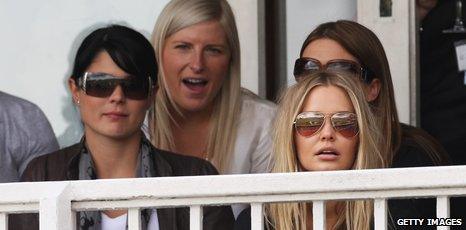 Johnson had a nightmare in the first two Tests taking eight wickets for 331 runs.
And his performance on the pitch is being blamed on events off it.
Earlier this month his mum, Vikki Harber, told Australian media that Mitchell hasn't spoken to her since January, and blamed it on his karate champion and model fiancee Jessca Bratich.
She also had a go at Cricket Australia for letting players' wives and girlfriends go on the tour but not their parents.
Harber said if mums and dads were supporting the team, there wouldn't be as much "bitchiness".
She added: "There isn't a mother in Australia who ever stops worrying about her boy, no matter how old he gets."
<b>Lads mags</b>
Mitchell's fiancee Bratich is a karate champion and has posed in not very much for various Aussie magazines.
She's in the UK watching the Ashes along with other WAGS.
And former Australian captain Kim Hughes says the row between Mitchell and his mum may have dented the bowler's confidence.
He told Australian media: "I found it incredibly surprising that his mum said what she did.
"Mitchell Johnson is a pretty sensitive young man and now it looks like he is totally devoid of self-confidence.
"That really added some extra pressure and he is a young man who has got other things on his mind."
The third Ashes Test begins at Edgbaston on July 30.