Susan Boyle gives her first interview
When Susan Boyle first performed on Britain's Got Talent in April, she wore hardly any make-up and didn't do much with her fizzy hair.
But since then, things have changed. Her voice, which has been described as 'golden' in the States, has turned her into a celebrity across the world.
And so the 48-year-old's had a makeover to match her new status.
In her first interview since getting second prize in the talent show, she looks polished.
In a trendy purple dress and black stilettos, the woman from West Lothian has been re-invented.
Her neatly-applied lipstick and snazzy new haircut set off her smile.
With a smirk on her face, she told American news channel MSNBC: "I brush up quite well."
After losing to dance group Diversity in the Britain's Got Talent grand finale, Susan was admitted to The Priory in London. It's a private pyschiatric clinic.
'Keep going'
Her people said she was exhausted and emotionally drained after a dramatic few weeks.
But in this interview with popular US anchor Meredith Vieira, she said she was now enjoying the ride.
"I'm having a wonderful time. It's just been unbelievable. It's indescribable," she said.
"It's a bit like going on a long journey really. You don't know what's going to happen, you don't know how it's going to end. I don't want it to end."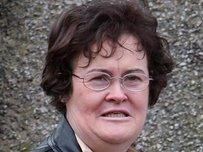 But Susan admitted she initially struggled with the fame.
She quietly said: "It's a lot like a giant demolition ball. The impact, like a demolition ball.
"And anyone who has that kind of impact finds it really hard to get a head around it.
I've got to be honest here. I guess I had to get my head around it, but through the guidance of a great team, and they are very good, I was able to see that in perspective and really turn that around a little."
The singer's elderly mum, Bridget, died two years ago. Susan spent much of her adult life looking after her.
When asked what her mother would say if she were alive, Susan said: "Keep going, you're doing really well. That's what she would say."
It's looking like a bright future for Susan Boyle. She's got a book deal in the works and is making an album with Simon Cowell's help.
But she didn't talk about what tracks would be on the new release. She said: "I'm not going to give too many secrets away at the moment."
In another boost to Susan's US profile she's done a glossy photoshoot with top-end fashion magazine Harper's Bazaar. She'll be in the September issue.