Beckham: My family comes first
David Beckham has told Newsbeat he will decide when to leave the United States based on what is best for his family.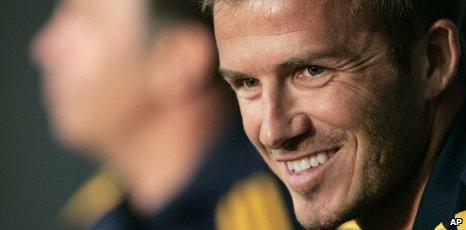 When asked at a news conference what he likes best about living in the US he said: "The biggest thing is my family, my family are happy."
The former England captain has recently said he would not rule out returning to a Premier League club, but claimed he was committed to staying with LA Galaxy.
"We don't like moving around, we don't like unsettling the kids and that for us is the most important thing," he said.
Beckham was speaking ahead of his first match with LA Galaxy after missing half of the US domestic season whilst on loan to AC Milan.
He said: "I've been away from them for six and a half months and I've missed them so I'm happy to be back."
'Dedicated to Galaxy'
He said he was looking forward to the match against the New York Red Bulls on Thursday night and has nothing to apologise to fans for.
"I think what you've seen is that I've been very dedicated to the Galaxy, dedicated to the fans," he said.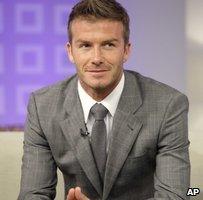 "I've always been very positive and very honest with my play here and when I went to Milan I explained to everyone the reason behind me going."
Hitting back at criticism from his Galaxy team-mate Landon Donovan, that he lacked commitment, Beckham said staying on at AC Milan was the right thing to do.
"I was given to chance to play for one of the biggest clubs in the world," Beckham said.
"If you ask any player in any league in the world, if they were given the chance to finish the season with one of the biggest clubs in the world, they would have said 'yes'."
Teaching kids
Beckham also spoke about his desire to promote the game of soccer in the US.
"Playing here is an experience, without a doubt, it's great to see some of the young American kids coming up, there's still a lot to learn from playing here and living here."
He said encouraging and nurturing young talent would be key to making the sport more popular.
"It's about growing the game… about bringing the young kids that are interested in soccer and love playing soccer through."
"It's the reason that I wanted to be involved in this, but like I said the first day I arrived, this is not going to happen over one or two years."
Asked about going on loan to another European club, Beckham did not rule it out but gave nothing away.
"At the moment I'm not even thinking about that," he said.
"It's important that people realise I am here to play for this team. I am contracted to play for this team and at the moment that's the most important thing."