Under-18s face alcohol search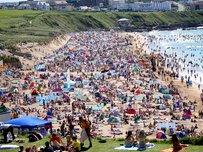 Police are warning anyone aged under 18 travelling to Newquay with alcohol hidden in their bags this summer that they may be stopped and searched.
Teenagers, trains and luggage can all be searched if officers suspect that soneone is carrying booze brought from home.
It's part of a crackdown on underage binge drinking in Newquay.
The new plans have been brought in after a two teenagers fell to their deaths from cliffs on the coast within the space of a week.
Like tens of thousands of teenagers around this time of the year, they'd travelled to Newquay to celebrate the end of their exams.
What worries Inspector Dave Meredith from Newquay police is that the area is appealing more and more to under-16s.
He says he's seen a rise in 15-year-olds going to Newquay and wants parents to check their childrens' suitcases before they leave home.
"We'll be looking at under-18s arriving in Newquay with bottles of spirits hidden in their suitcases," he said.
"We're targeting the trains as they arrive at Newquay working in conjunction with British Transport Police.
"Our own officers will be confiscating alcohol when they get off the trains."
Zero tolerance
It's been a long time since Newquay has been remembered for its tea rooms, quaint shops and beautiful beaches, but the recent tragedies have put a lot of pressure on the police to make sure that it doesn't happen again.
There's no doubt that Newquay is the place to go for young people looking for a good time.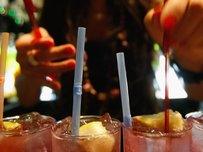 Baby-faced teenagers can be caught swigging vodka and simulating sex on the streets.
However, Newquay does maintain a zero tolerance policy to underage drinking.
Yet local police say they're realistic about underage drinkers in Newquay.
They want more support from parents, and bar owners. They're being criticised, however, for not calling for a complete ban on pub crawls.
Police say repsonsibility lies with bar owners because pub crawls are legal.
Police say clubs have got a lot stricter when it comes to serving.
Teenagers in Newquay told Newsbeat they got the alcohol from home or by paying older clubbers to buy the booze for them.
Those who stashed alcohol in their suitcases say the threat of being searched doesn't bother them, but they worry that stop and search could lead to a rise in drugs, as that would be easier to hide.
The deaths of the two teenagers in the last 17 days didn't seem to worry the groups Newsbeat spoke to on Tolcarne Beach but it has put the spotlight on Newquay police.
They plan to start confiscating booze and searching underage teenagers as soon as possible.