Tulisa: I'm lucky to be here after the last 12 months
Tulisa Contostavlos has told Newsbeat she had thought about taking her life during the last 12 months.
Speaking for the first time since being found guilty of assault and the collapse of a drug trial against her the former N-Dubz singer said: "There was a really low point.
"I was so low, so far away from where I am now, that I felt like I was possessed by someone else.
"I was so weak that I didn't have an ounce of strength left in me."
On Friday Tulisa was found guilty of assaulting a man at a music festival.
The 26-year-old denied hitting celebrity blogger Savvas Morgan at the V Festival in Chelmsford, Essex, in August last year.
She was ordered to pay £3,020, including £2,700 of legal costs, a £200 fine and £100 compensation.
Four days earlier, the ex N-Dubz singer and former X Factor judge's trial over drug dealing claims collapsed.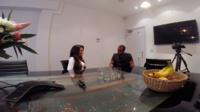 A journalist working for The Sun, Mazher Mahmood, also know as the Fake Sheikh, claimed Ms Contostavlos had brokered a deal through her friend Mike GLC, whose real name is Michael Coombs, to supply Class A drugs.
However, Judge Alistair McCreath told Southwark Crown Court he thought Mr Mahmood had lied in giving evidence.
A statement from the Sun said: "The Sun undertakes any investigation responsibly and the story will be subject to a series of legal checks before being published.
"In this case, the CPS felt there was sufficient evidence following our investigation to bring a prosecution.
"Following the decision by the judge to halt the trial - on an issue relating to evidence given in court, rather than the investigation itself - Mr Mahmood was suspended immediately by The Sun. An internal investigation will be carried out.
"This newspaper has a very strong history of journalistic investigations and campaigns, including those resulting in successful prosecutions.
"We will continue to undertake responsible investigative journalism in the public interest."
Ms Contostavlos had denied the charges against her.
Describing "the darkest points" of the last year, she told Newsbeat: "I just think I lost it for a bit. I'd been broken down, grated. I was just drained.
"Everything's been a lesson, a journey, an experience. I'm lucky to be here now and have a second chance at what I do and get my livelihood back."
The sting
Tulisa described how the sting at the centre of the trial came about.
In 2013, Tulisa's PA Gareth Varey was contacted by a woman claiming to work for 21st Century Fox offering her £3.5m for "a massive movie role".
Tulisa said that drugs were mentioned "during the first meeting" after she showed interest in the role but that the topic didn't set off any alarm bells.
"Sorry to say it but there are a lot of people in the industry that dabble [in drugs] and it wasn't a shock to me that a massive movie producer was acting like he was [into] coke," she said.
"I made it clear from then that I didn't take drugs and I wasn't involved in drugs.
"It was only when the manipulation started from the different characters of the sting and they managed to turn it that I began pretending."
Tulisa added she was under the impression that she was constantly being auditioned for the role.
"This movie role was [sold as] the first ever urban British female for Hollywood or Bollywood and I had to convince these people that I was right for the role.
"So one person's in my ear telling me, 'If you want the job all you have to do is go in there and say this and act like this'.
"It's not to say that I wasn't being myself. I was being myself under certain pressure.
"Because of the way it happened... everything seemed very legit."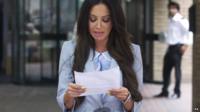 She explained she struggled to comprehend what had happened when headlines started to emerge.
"I couldn't believe it was possible, I didn't know it was allowed," she said.
"A lot of people would have noticed a change in me after the tape came out and I became very lost and very defensive.
"The emotions that it was bringing out in me, I didn't blame the the industry but I felt like if I wasn't in this industry this wouldn't be happening to me."
The former X Factor judge claimed that there were "a number of reasons" why she would have been targeted over anyone else in the public eye.
She said: "Part of it I think is a class thing. With me I think they thought it would stick, it's more believable.
"I've lost a lot of people [because of the drugs accusations].
"But the people that were close to me they knew the details of what had gone on so they were just as shocked as me."
'The storm'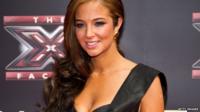 She explained that a "very strong side" to her personality helped her through the past 12 months.
"I feel like I've overcome the storm and I'm feeling stronger than ever. I've learned a lot of lessons in this past year," said Tulisa.
"When something like that goes on for a whole year you get used to having this weight on your shoulders and a pressure on your chest.
"All of a sudden you wake up one day and to know that it's over, it's very hard adapt to that.
"I still kind of have panic attacks.
"It only lasted a second but I just sat up and thought 'Oh my god it's over'.
"There's no really happy or really down - you just become numb. So when you've become numb for so long you try to get your personality back."
'I'm not finished yet'
Tulisa added that she's confident she can bounce back from the last 12 months.
"They've made me out to be some kind of monster for the past year so I can't really say what's going to happen.
"I can only hope after the year I've had - you can't be sure on anything."
Despite experiencing "low points" Tulisa said there wasn't a time when she thought about leaving show business.
"The aim of going to America was to audition for movie roles and this is where that took me.
"I'd lost my confidence and I thought, 'You can't leave on a low this happened to you for a reason'.
"I see it as I'm not finished yet."
Tulisa: The Price of Fame will broadcast on BBC Three on Monday at 22:00 BST.
Follow @BBCNewsbeat on Twitter and Radio1Newsbeat on YouTube