Former Lostprophets hoped Watkins abuse was 'mistake'
29 July 2014

From the section

Music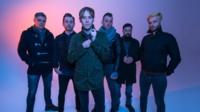 The former members of Lostprophets have talked about their shock and disgust after finding out that singer Ian Watkins was a paedophile.
The 36-year-old was jailed for 29 years in December for a string of child sex offences.
Bassist Stuart Richardson said: "Even though I was completely done with him, I hoped it was all a mistake, he was innocent, he had to be.
"The first time, we knew the band was done. You can't go back from that."
In an exclusive interview with Newsbeat, the five remaining members - Lee Gaze, Mike Lewis, Stuart Richardson, Jamie Oliver and Luke Johnson - say they are trying to move forward with their new band, No Devotion.
The band are sitting in a north London pub, the afternoon before they play the third show on a run of four gigs.
Gaze, Richardson and Lewis say they are aware that before this band can truly begin, they have to confront the past.
They say the shock of hearing the news last year about their former frontman is still difficult to put into words.
"When 15 years of your life is washed down the toilet in that one moment, it's harsh to take in," says Lewis, the band's rhythm guitarist.
Fellow guitarist Gaze adds: "There was two sets of it [shock] because there were the accusations - which was one thing.
"And then there was the actual, 'Yeah I did do it' which was a year later. He dragged that out for a year, so we got hit by it twice."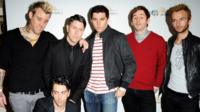 Once Ian Watkins was arrested, some people asked how the other band members couldn't have known something was going on.
"How could you know? How would you know?" Gaze says in disbelief.
"Who would disclose such a thing to five people, who between them have eight children? You just wouldn't because they would be killed on the spot."
Richardson adds: "I kind of expected it.
"People are angry, they needed somewhere to look and there's the target, there we are."
Gaze says he is angry that people could think that about them though.
"We weren't hiding under rocks, we were still out there," he says.
"It wasn't like, 'That's happened, let's run away.' It was like, 'We are sticking together,' which I think is such a bold statement."
The remaining band members reveal how before Ian Watkins committed his crimes, he was becoming increasingly distant from the band.
"He was doing his own thing," says Gaze. "That just grew worse over the years, the more he was using drugs.
"He could be in the same city as me and I wouldn't hang out with him, even if we weren't playing shows."
All three say it wasn't a rock 'n' roll atmosphere backstage at their gigs and they certainly didn't live in each other's pockets.
"I think a lot of people think you are in a band together, back of a van, you're doing everything together, there are all these wild after show parties," Lewis tells Newsbeat.
"That's such a cliche."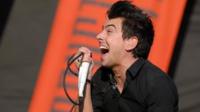 Gaze breaks in: "That is such a naive way to look at things.
"Some of the best bands in rock 'n' roll history have the most fractured structure and they keep on going and they are so broken as a band."
Half way through the interview it is becoming clear, they haven't used Ian Watkins name, referring to him as the "old singer."
They also can't seem to bring themselves to say Lostprophets, instead saying "the old band" or "the last band."
The final time they saw Watkins was at the band's last gig at Newport Centre on 14 November 2012, except for Lee Gaze.
He recalls: "We shot a video for what was to be our last single for the record, which was probably nine days before he got arrested."
He says Watkins was "strangely positive and enthusiastic about everything".
"[He was] talking about the next record and how it's going to do really well and get back on our feet."
The rest of the band argue they would never have recorded another Lostprophets album, even if none of this had happened.
Gaze adds: "It goes to show how deluded he was.
"He is just completely on a different level to everybody, happy and positive and convinced we are going to be successful again."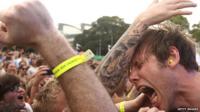 Once they decided to form their new band, No Devotion, they say they knew it was a bold decision and might not be met positively.
To start with they needed a new frontman and knew some singers might feel they were tainted.
"Our attitude was that we were so dead set on doing a band that if no-one will do it, we will do it ourselves," says Gaze.
They recruited Geoff Rickly, former frontman of Thursday, who they say has vocally taken their tracks to "another level".
They are in the middle of recording their debut album and are already getting support from the music industry and fans.
No Devotion played their first gig in Cardiff last week and admit they were a bit apprehensive.
"We just wanted people to love the songs as much as we did and to know that it was accepted and it wasn't just a pity party," says Richardson.
"We wanted people to know we were a band and not just these guys who went through something bad."
The three say there were plenty of moments when they thought they could never play again.
Lewis explains: "It was vindication almost that we were there and we are doing this and we do have an incredible support from people."
For him, getting back on the road and returning to the music industry has been "incredibly cathartic".
"I believe now that's the past, let's forget about that, that band happened, that band is in the past.
"It's time to move on and we just want to focus on that from here on in."
Follow @BBCNewsbeat on Twitter and Radio1Newsbeat on YouTube